Welcome everyone to TJRWrestling.com's official Smackdown Review! My name is Thomas Briggs, and I'll be filling in this week. Some of you may know me from Thursday News Update/Headlines, while some of you may be listeners of my SharpShooter Cast podcast, but FEW of you may know that when I started with TJR Wrestling, I was the resident Sunday guy. So this feels like slipping on a comfortable pair of old tennis shoes…
On to this week's episode of Smackdown!
A quick note on formatting: I'm a huge fan of Andrew Johnson's Smacking of Smackdown format, but I'll be doing things a little bit differently this week. I remember reading somewhere before that Kevin Dunn (WWE's Executive Vice President of Television Productions) produces WWE tv with the intent of having three memorable storyline/moments in each show, and the rest is all filler. So that's exactly what I'll be covering - the top three reasons you should watch this week's Smackdown.
Summary:
Raw recap:

Daniel Bryan gets beaten up by Authority and Batista.

Batista in-ring promo. Interrupted by Daniel Bryan, setting up main event.
Christian defeats Dolph Ziggler with the help of Alberto Del Rio distraction. (9:50)
The Usos defeat Rybaxel (my name, I'm brilliant). (4:20)
Raw Rebound segment. -Kane interview regarding Daniel Bryan.
Natalya & Eva Marie defeat AJ Lee and Tamina. (3:55)
Paul Bearer Hall of Fame video package.
The Shield Summit - Rollins and Ambrose work their issues out.
Sheamus defeats Alberto Del Rio. (10:36)
Wyatt pre-tape promo.
Rusev hype segment.
Daniel Bryan & Big Show defeat Batista & Kane. (11:15)
Just a quick glance at that summary should say it all: this week's Smackdown was pretty packed with top stars and fun matchups. But here are the THREE top items to take away from the show:
1. Randy Who? Daniel Bryan is being pushed as Batista's primary opponent.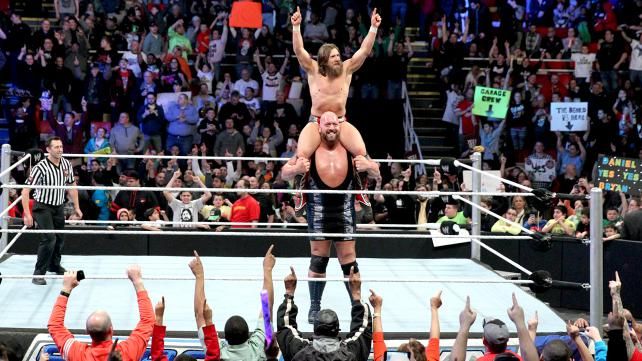 I find it incredibly interesting that WWE is currently using Smackdown as their main vehicle for pushing Batista as a heel. Last week Batista turned on Smackdown, and this week he was the focal point once again. His promo to kick off the show was decent, but things got a whole lot more interesting when Daniel Bryan met him in the ring a few minutes in. The two played off each other well, with Batista repeatedly calling for a "real man" to step up as the face of the WWE, and Daniel Bryan pointing out the irony in that by mocking Batista's wardrobe choices. It was good stuff!
Look, we all know Bryan is the most popular wrestler in the WWE right now. And no matter how frustrating it can be to simply resign yourself to seeing Bryan vs HHH at WrestleMania, it's pretty damn relieving to see Bryan interact with Batista right now. It can mean one of two things: Bryan will either be Batista's first opponent post-WrestleMania (when Batista is presumably the WWE World Heavyweight Champion), or Bryan will somehow be inserted into the WHC match at WrestleMania itself. Let's not kid ourselves, one option is clearly better than the other. But at least the WWE recognizes the popularity of Bryan and is setting something up for the future.
That being said, let's heap more praise on WWE for focussing on Bryan vs Batista rather than Orton vs Batista. THAT matchup is snoozefest. And with Orton completely absent from the show, the WWE recognizes that. Whether or not that recognition amounts to a change in WM's main event remains to be seen, but let's hope so.
It's worth mentioning that this week's tag team main event is worth watching. Batista may not be in "ring-shape", but he does well in small doses, and tag matches accomplish exactly that. Kane continues to be solid, regardless of his shitty ring attire, and the Big Show will always be a fan favorite. But the most fun part of the match was watching Daniel Bryan do his thing. While the Detroit crowd was quiet for most of the night, they really got behind him when he fought Batista, and it's fun to watch an emerging Superstar.
2. The Shield may have made up, but the ground beneath them is clearly about to crumble.
On Monday, Seth Rollins walked out on The Shield in the middle of a match against the Wyatt family. Rollins had long been the "glue" that held the Shield together, so it was understandably a significant development. To address this on Smackdown, the Shield held a "Summit".
As hilarious as the concept of three wrestlers holding a "summit" is, the segment between Rollins, Reigns, and Ambrose was REALLY good; definitely compelling television. Reigns and Ambrose made their way to the ring first, taking their usual route through the crowd. Rollins met them in the ring a few minutes later, entering from just of to the side of the main entrance way. Once in the ring, Rollins explained his actions: he walked out on his brothers to prove a point, that united they're unstoppable, divided they are weak.
Of course, Ambrose didn't immediately accept Rollins' explanation. The two shoved each other before Ambrose knocked Rollins to the ground with a punch to the face. During this entire time, Roman Reigns played the role of the peacekeeper, so to speak. He still got his own shot in. It felt like a new role for him. But when Rollins recovered, declined to retaliate against Ambrose, and called for the Shield to reunite, Reigns immediately joined his side. Ambrose eventually did as well, but only after an uncomfortable pause.
Simply put, all three guys in The Shield are killing it right now. While it's been very easy recently to say that Roman Reigns has been the stand out among the three, Rollins in particular has been coming on hot. His athletic ability in the ring is top tier worthy, and he played his role in "the summit" well this week. Ambrose, on the other hand, is clearly ready to move on as the top heel among the three. He can come across as cocky, cowardly, conniving, all with simple facial expressions. He's very good at what he does.
It feels obvious that the Shield isn't going to make it together much longer. In fact, I'd predict they truly break up this Monday on Raw. But the story that WWE is telling here is complete, and that's awesome. A great faction like the Shield deserves slow-burn storytelling like this, and a match at WrestleMania is where this is all headed. Great job by all.
3. Sheamus and Christian may be joined by Del Rio and Ziggler at WrestleMania.
When Sheamus returned from injury, it was assumed that he would quickly turn heel and feud with a top babyface, like Daniel Bryan. But with CM Punk's departure, WWE has not only chosen to keep Sheamus in the role of hero, but he's also had to take a step back from such a prominent match at WrestleMania. We at TJR Wrestling love Christian, but he's not currently the big name opponent that Daniel Bryan would have been.
Christian and Sheamus' feud continued this week, but it's taking an interesting turn. Instead of yet ANOTHER match between the two, each got assigned a new opponent on Smackdown. Christian took on Dolph Ziggler, and Sheamus took on Alberto Del Rio. These particular matchups are interesting in that Ziggler and Del Rio have their own mini-feud going at the moment, stemming from last week's segment between the two and Aaron (Jesse Pinkman) Paul.
The combination of these two feuds, as well as the fact that we've already seen Sheamus vs Christian plenty already, means a curveball could be thrown into their assumed WrestleMania match up. A tag match or a fatal fourway between Sheamus, Christian, Del Rio, and Ziggler would be an excellent way to get all men a spot on the card, and showcase their considerable talent as well. Moreover, it's a nice way of changing things up. With crowds already chanting "boooring" when Sheamus and Christian square up, WWE needs to figure out a way to freshen the match up. This week's Smackdown feels like the first step towards that.
_________________________________________
That's it for this week! I hope you enjoyed the write up and didn't mind the format change. Let me know your thoughts in the comments below! And if you're unfamiliar with my writings, and want to know my thoughts on Raw as well, please check out my latest podcast!