When WWE says they are a global company they mean it. Over the past week, WWE performers have been in Australia and South Africa. Some are going to China too. If you follow WWE performers on Twitter you can see various photos of their travels. Obviously they enjoy visiting different countries with packed houses, but sometimes bad things can happen.
During a live event in Cape Town, South Africa on July 30, Randy Orton was in the ring posing on a turnbuckle when a fan jumped into the ring to attack him. The fan appeared to attack Orton in the groin. It's Ballsgate 2013! Okay so maybe that's not a good name. Point is, Randy was on the ropes and some guy went to attack him in the junk because that's what crazy South Africans in boots apparently like to do.
A lot of the prominent wrestling sites picked up on the story and TMZ.com even had something about it. They got a quote from a WWE rep saying that the fan was not part of the show. Gee thanks. There's not much else to their story, which means TMZ can go back to stalking Kim Kardashian or whatever the hell they do all day over there.
Here's WWE.com with news about this incident:
WWE.com has learned that Randy Orton was violently attacked by an audience member during a SmackDown World Tour Live Event in Cape Town, South Africa, this evening. Footage of the attack was captured by a WWE fan and posted to YouTube, and shows the perpetrator striking Orton from behind. The matter is currently under investigation by the local authorities, and the South African fan is being held in jail pending criminal charges. The extent of Orton's injuries are unknown at this time.
As mentioned, here's the video on Youtube that was originally shot by a fan, but WWE cut some the video out (it was really bad camera work) and cleaned it up as best they could.
After watching that my immediate thought was that I hope somebody punched the fan in the head. He deserves it for going into the ring and going after any wrestler. You're a fan. Know your role. You can cheer, you can boo and you can yell, but do not get into that ring because if you do you're crossing a line. There have certainly been other instances in wrestling history where fans went into the ring and they did their asses kicked, as they should.
My other thought from watching this is where are the security guys? I can understand somebody getting over the railing, but how can he get in the ring and attack Orton like that? I'm sure it will make some people think it was a work. I don't see how or why it would be. There's nothing to gain from it being a work.
The last sentence in the WWE.com article was silly: "The extent of Orton's injuries are unknown at this time." I really doubt he was injured by it. He was moving fine. This is the same site that said Orton had a back injury a few weeks ago only for Orton to deny it, which was odd. That was likely a mixup in that he was supposed to sell an injury and wasn't told about the WWE.com story before he started receiving tweets about it.
This is a big deal because should not attack any wrestlers. They should know better. I'm glad he got arrested. I doubt he would be charged with anything that serious, but I hope he receives the message that will be sent to him. Or maybe they can just have Orton punt him in the skull legitimately. I wouldn't mind that.
Orton certainly didn't experience the same groin pain that Hans Moleman suffered on The Simpsons during his classic "Man Getting Hit By Football" film.
I love it too, Homer. I really do.
IN OTHER NEWS
- CM Punk was at Wrigley Field for the Chicago Cubs game last night for a Lucha Libre wrestling night. They gave away some wrestling masks.
Here's a video of Punk talking to Comcast Sportsnet Chicago. Thanks to Tony Kegger (@TonyKegger on Twitter) for sharing that with me. (Link)
Punk talked a lot about the Chicago sports scene. He also did a word association as the interviewer mentioned WWE personnel.
Daniel Bryan - Second best wrestler in the world.
John Cena - Company man. (I would have said "total diva" there.)
Brock Lesnar - Challenging.
Randy Orton - Money in the Bank.
Paul Heyman - Bad egg. (He wants to see Paul Heyman run the bases.)
CM Punk - He gave a long winded silly answer.
They also gave away some merchandise as seen in this photo here too.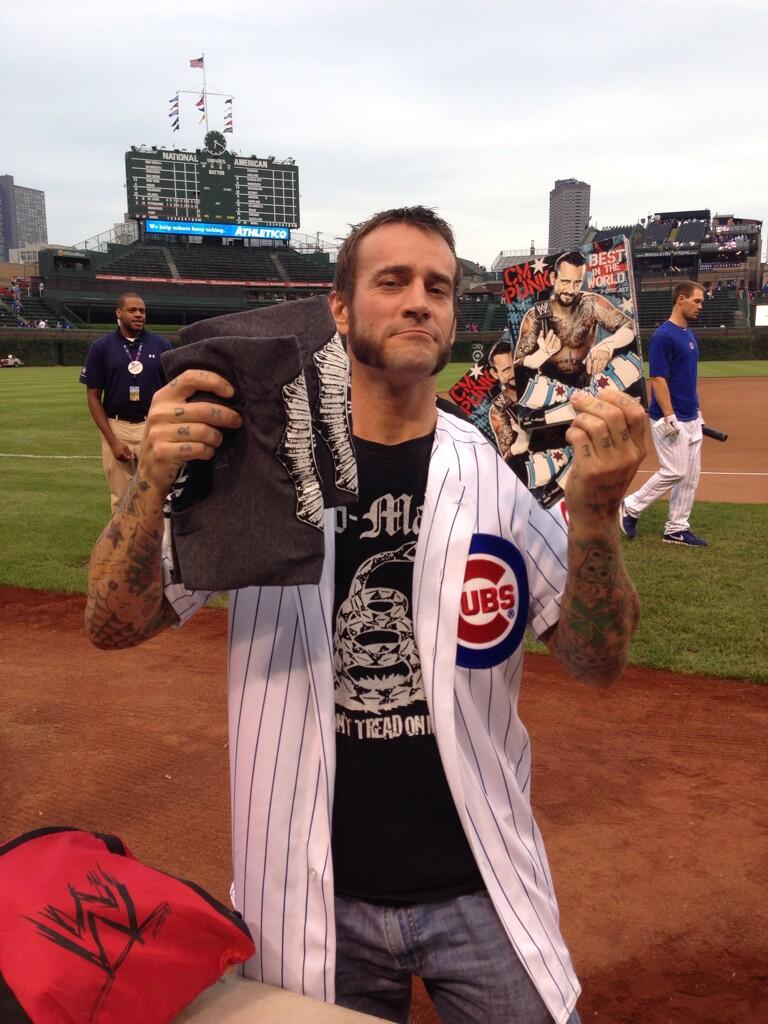 Apparently he sang "Take Me Out to the Ballgame" during the 7th inning stretch as well, so it sounds like a fun night for the man that is set to take on Brock Lesnar at SummerSlam.
- In the "more bad news for TNA" department, TNA canceled two live events scheduled in Oregon and Washington in late August. (WrestlingInc) If you follow the link you can see some fans commenting saying that they were called to be made aware of the cancelations. I'm sure the ten people that bought tickets were pissed! Low ticket sales was likely the reason for canceling.
Actually I like TNA house shows quite a bit. I was at one two years ago. We must have had about 1,000 people there, which is above average for a TNA live event (two weeks ago they had 300 people at a show in Missouri). They haven't been back here since. I don't get it.
- In other TNA news, Japanese wrestling legend The Great Muta was visiting TNA in their offices in Nashville. Here's a photo of Muta shaking hands with Jeff Jarrett, who shared the pic on Instagram. If you wondering, Jarrett still works in the TNA offices. He hasn't been on television in a few years.
These days Muta is running the Wrestle-1 promotion, so the rumor is they may send some talent over to TNA while some TNA wrestlers go over there. We don't know if that's what the meeting was about, but it certainly seems possible.
- Lastly, a friend of mine named Adam Johnson wrote a column about a current divas feud between The Bella Twins and Natalya as well as WWE's Be A Star campaign. They featured the column on F4WOnline.com so check it out there. He makes a lot of good points. Also check out The-Oratory.com where Adam and other friends of mine post columns as well as participate in their very active forums.
-----
Finally as I wrap this up I want to encourage you all to please use our new Disqus commenting system. It's easy to use because you can create an account within one minute or use your accounts on Facebook or Twitter to start posting. I've already been very active on it. I love it because the page doesn't reload when you comment. You can keep commenting as much as you like. Let's use it to comment on columns, create discussions and share ideas. Keep it clean. Have fun. I look forward to hearing (or reading, as it were) from you about this post and all of the columns we'll be posting in the future on TJRWrestling.com.
Thanks so much for all your support. We will continue to grow as we publish columns and reviews. All you have to do is keep on reading while also adding your comments as well.
This is the last day of July. I hope it was good for you. Bring on August. Have a good one, my friends.
Email [email protected]
Twitter @johnreport