In what's been a recent Labor Day racing tradition, NASCAR heads to Atlanta. Fast, abrasive, and exciting, how much better can it get for fans?
We're down to just two races left in the regular season for the NASCAR Sprint Cup Series. With just a pair of events remaining before the press focuses on the 12-driver field for the championship battle ahead, the focus is on Atlanta Motor Speedway for this Sunday night's Advocare 500 (Live on ESPN at 7 PM EST). Reconfigured from a paperclip oval to a quad-oval in 1997, this track is fast and abrasive, with multiple racing grooves and a track that enjoys eating up the Goodyear rubber like Cookie Monster having his day. Also, she's not been repaved since 1997 - to put it into perspective, Bill Clinton was still in his first term as the U.S. President.
An old asphalt surface for Atlanta doesn't mean it's bad. If anything, it just means a bevy of pit strategies will be implemented and it will certainly separate the contenders from the pretenders. Watch for drivers to truly put the emphasis on handling, opting to sacrifice speed early on before pressing hard when the night skies encompass the Hampton, GA facility. Atlanta is also home to very close competitive finishes, like the 2001 classic duel between Kevin Harvick and Jeff Gordon, as well as the Labor Day race about a decade later where Gordon staved off a hard-charging Jimmie Johnson for the victory.
Of course, the storylines will be focusing on a number of teams and drivers. Perhaps the biggest ones will be the 2014 rosters, with AJ Allmendinger taking the "keys" of the No. 47 Toyota Camry as well as the No. 42 ride having a young gun taking the wheel. Additionally, there'll be the Chase bubble drivers getting plenty of attention, with former Cup champs Brad Keselowski, Kurt Busch, and Jeff Gordon fighting hard to make the "playoffs."
Ultimately, who will come home with the Advocare 500 trophy? Who'll come out of the Peach State smelling like...well, peaches? Let's find out in a moment here on "Track Talk," but first, let's tackle some "Hot Topics!" Without further ado, here's #TeamTPF aka Shelby Parrack, Matt Kacar, and Nick Brincks!
Hot Topics
Question 1
We all watch the NASCAR Sprint Cup Series in earnest and watch the best racers and teams compete on any given Saturday night or Sunday. Do you follow the other NASCAR divisions and if so, what draws you to it?
Shelby Parrack : I watch all of NASCARs three major series religiously, you'll never catch me missing a race whether it be live or on the DVR, I'll be watching it! One of the things that draws me towards the lower series of nationwide and trucks are the young, raw, up and coming talents. Another would have to be plain and simple-- the hard core racing. I'm rarely disappointed after a Truck or Nationwide Series event and being able to have talents in Ryan Blaney, Ross Chastain, and Travis Pastrana to cheer for makes it even more enjoyable to watch! I will be at the Canadian Truck race this weekend at Mosport and I'm expecting some intense, great racing! This will be the first ever Truck Series event I will attend and my hopes are extremely high and I know they will not disappoint.
Matt Kacar : I also follow the Nationwide Series. Not sure what draws me to it since I am so sick and tired of seeing the Cup drivers win basically every race. I do enjoy seeing how the young talent stacks up to the Cup drivers but it's not really a fair fight.
Nick Brincks : I do enjoy watching the Nationwide Series and Truck races when I can. However, I haven't had Speed Channel (and now Fox Sports 1) in a few years, so I haven't watched as many Truck races as I'd have liked to. I enjoy watching drivers try to work their way up through the minor leagues, so I am put off by Cup drivers dominating these races. Ever since Harvick won the championship in 2006 and Cup drivers won the next several championships, I haven't enjoyed the Nationwide Series quite as much. I made every effort to watch all the races in the early 2000s, with the likes of Scott Wimmer, Scott Riggs, Jason Keller, David Green, and current Cup drivers Greg Biffle, Brian Vickers, and Jamie McMurray. It wasn't as much of a "Cup Light" then as it is now, with many of the same drivers winning and the series visiting the same tracks. The days of Pikes Peak, Nazareth, Gateway, IRP, etc. Those were the days. I watch now if I'm free, but if I miss them, I don't feel as if I'm missing much. The Nationwide Series lost its identity in the latter half of the 2000s, and is slowly trying to regain an identity. The next change I'd like to see is forcing Cup drivers to race for teams that don't race in the Cup Series AND make them start from the rear.
Question 2
Atlanta's asphalt hasn't been repaved since Bill Clinton's first term in office as the US President (last repaved in 1997). Is it necessarily a bad thing that the drivers tackle a rough surface or does it make for good racing?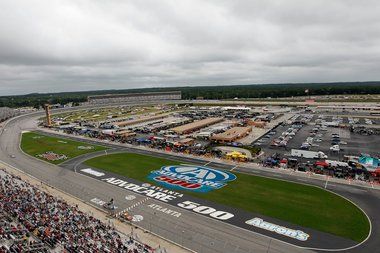 Parrack : I feel like there is absolutely no reason Atlanta should be repaved. We've had a lot of tracks in the past two years that have had a make over, some probably did need it, others I think were a little unnecessary. You have to have a balance in my opinion, we can't go to brand new smooth race tracks every single week. Once the track starts causing problems for tires and racing and the drivers start showing concern, then it may be time.
Kacar : The older and rougher the surface the better. It is bad news when a track gets repaved. It means that for the next few years the racing at that particular track will be mostly single file. That is why Atlanta is probably the best 1.5 mile track that NASCAR goes too. Lots of side by side racing.
Brincks : We need more tracks with rough surfaces. That's what made the Auto Club race in March so spectacular. The rough track brought tire wear into the equation, something that rarely happens anymore. If you pit for four tires with 15 laps left and restart 15th, you should be able to pass many cars on old tires. This is the case on rough, abrasive tracks. Smooth, newly paved tracks lack this opportunity.
Question 3
We've seen young drivers win, a Colombian racer triumph twice, and we saw Danica Patrick nab the Daytona 500 pole. Is NASCAR truly becoming more diverse or does it need more progress on this front?
Parrack : NASCAR has definitely become more diverse over the years, we've made great strides in that aspect of our sport. I don't think there's any reason to stop continuing with this progress, there's always room to grow and improve! Our sport as a whole has broadened our views and opened our eyes to many new things recently and that's so good to see! Male-Female, Black-White, Young-Old, if you can race, you're in. And that's exactly how it should be!
Kacar : NASCAR is definitely more diverse then it was five years ago but anyone will probably say it's not diverse enough. One thing they are lacking is a good full-time African-American Cup driver.
That is much easier said then done. Darrell "Bubba" Wallace is the best hope for that to change soon.
Brincks : I don't consider "young drivers" to be a branch of diversity. We've had young drivers for years and they've been successful. Seeing women or non-white drivers be successful is key to NASCAR succeeding on the diversity front. Unfortunately, we have yet to see that. Montoya is potentially on his way out of the series and Danica is an also-ran. Nothing against Kyle Larson, but when he's the face of NASCAR's diversity effort, you know it's lacking.
And now #TeamTPF, who's your race pick for the Advocare 500 at Atlanta Motor Speedway?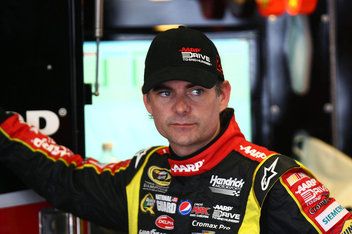 Parrack : My pick this weekend is Jeff Gordon. With a runner up finish last year, a win the year before that, and five wins total at this track, I'm really confident in the 24.
Not only is he great at this track, he also desperately needs a win to help get him into the Chase again this year, so a win this weekend could give him the chance to do this.
Kacar : My pick was super fast last week and has won at Atlanta is dramatic fashion before. I am going with Carl Edwards to get his second win of the season.
Brincks: I think we'll see a Chase bubble driver win this weekend, but I don't know for sure which one I think stands the best chance. I'll go with Brad Keselowski though.
Thanks once again for joining us race fans and again, thanks to Shelby, Matt, and Nick for their thoughts and picks for the week in NASCAR for Atlanta! Until next time! Enjoy your Labor Day weekend and don't work too hard, friends!