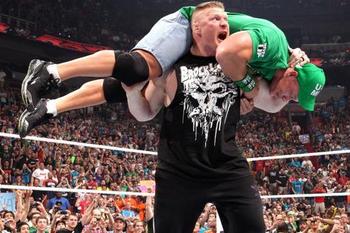 The return of Brock Lesnar to World Wrestling Entertainment last Monday on Raw has created quite a buzz amongst the wrestling world.
Wrestling fans around the world are wondering what is next for the man once known as the "Next Big Thing."
The early indication is that he's signed a deal to appear on anywhere from 30 to 40 editions of Raw in the next year with the option of being on more episodes should they mutually decide to do such a thing. He'll also be appearing on some pay-per-views, which I would assume is where the majority of his matches would be.
I'm not including "dream" scenarios meaning no Shawn Michaels because I believe he's retired, no Kurt Angle because he's signed with Total Nonstop Action and no Steve Austin because he hasn't had a match since 2003. My choices include names that are currently active on WWE's roster.
It's unknown what role Lesnar will play in WWE. He showed during his 2002 to 2004 run that he could be effective as a heel or face. Personally, I'd book him as a heel because he's great at being a bully that also finds ways to win because of how good he is.
I've come up with seven opponents for Lesnar to feud with between now and when his one year deal expires at WrestleMania 29.
John Cena
This one is obvious. Based on Lesnar's attack on Cena on Raw, all signs would indicate that this would be Lesnar's first feud whether the match takes place at Extreme Rules in Chicago or down the road perhaps at a bigger event like Summerslam.
As I'm sure most fans are aware even if you weren't watching WWE in 2003, Cena was a rising heel that got in the face of the babyface WWE Champion Lesnar. They had a match at Backlash 2003 that Lesnar won convincingly, but it was also a match that a lot of us thought was a sign of things to come.
By the time WrestleMania 20 arrived in 2004, Cena was being groomed as the next big babyface in the company while Lesnar was walking out the door. These two were in their late 20s and most assumed that they would be WWE's flagbearers for the next decade going forward. Obviously, that didn't happen.
Cena loves playing up his "I'm here every week" card, so when he cuts a promo on Lesnar it's obvious that is the angle they need to push hard.
It's not a question of "if" Lesnar will wrestle Cena, but a question of when.
Triple H
I know he's only a part timer at this point in his career, but there's a story with Lesnar that could easily be told. There are going to be some fans out there that dislike Lesnar for "walking out" on WWE back in 2004 to pursue his career in the NFL, which didn't work and ultimately led to him becoming a bigger star in UFC.
Frankly, I don't blame anybody for being mad at Lesnar for leaving WWE after they did such a good job of making him into a big star.
That's where Triple H comes in. As the on screen Chief Operating Officer, Hunter could represent "the office" as a babyface that doesn't want Lesnar on his show. The story can be told that Lesnar signed the deal with the heel GM John Laurinaitis, which could then lead to a PPV match where Hunter has to beat Lesnar in order to get him out of his company.
The Lesnar/Triple H match interests me because while Lesnar was the top guy on Smackdown during most of his two year run, Hunter was the top guy on the Raw brand. Their paths never really crossed.
By playing up that history, plus Hunter's current job title, they could tell a great story in leading up to what would be an epic match.
Randy Orton
When Lesnar won his first WWE Title at Summerslam 2002 he became the youngest man in the history of WWE to become the WWE Champion. He was 25 years old.
Two years later at Summerslam 2004, somebody else won the WWE Title at age 24 to become the youngest WWE Champion.
His name? Randy Orton.
As mentioned with Cena, Orton's been a top guy in WWE during the eight years that Lesnar has been away and as an elite babyface performer he's somebody that the fans could get behind in a feud with Lesnar.
The Undertaker
This is an obvious one. Not only do they have history dating back to their rivalry in the fall of 2002 when Undertaker did an amazing job of putting over Lesnar, but there was also the incident at a UFC in October 2010 when Undertaker showed up to challenge Lesnar.
The Undertaker's challenge wasn't answered. However, it did an amazing job of creating a buzz for a potential match.
There is a potential hang up with this one, though. In the last two years, Undertaker only wrestled twice. Both times those matches were at WrestleMania.
Would Undertaker show up at a show other than WrestleMania to take on a former rival like Lesnar?
I would ask Undertaker the same question that he asked Lesnar in October 2010: "Wanna do it?"
I hope the answer is yes.
CM Punk
In my opinion, the "best wrestler in the world" moniker bestowed upon CM Punk is an accurate one. As such, he's one guy I would love to see in the ring with Lesnar.
The promos that Punk could deliver in the build up to such a match would be epic because when Punk speaks you believe what he says. He's not the guy to utter catchphrases or spew venom just for the sake of hearing his own voice.
When he talks, people listen.
The match would be awesome too. If you hold the match off until the summer or fall when Lesnar potentially has a few matches under his belt, I have all the faith in him that he'll be in great shape to hang with the current WWE Champion.
I have the feeling that this match is being penciled in for late 2012 or early 2013. It would be too good for it to not happen over the course of the next year.
The Rock
I think this is the match we should pencil in as the main event of WrestleMania 29 at Met Life Stadium in New Jersey on April 7, 2013.
When Rock left Raw on Monday, he stated that he wanted to win the WWE Title one more time. What he didn't say is that his film schedule is ridiculously busy through the end of this year, which means it's highly unlikely that he'll accomplish that goal until next year.
The scenario that I believe to be the most likely is that The Rock enters the 2013 Royal Rumble, wins it and challenges the WWE Champion at WrestleMania 29.
Who would his opponent be? Brock Lesnar.
When they last wrestled at Summerslam 2002, Rock's movie career was just beginning while Lesnar's WWE career was in its early stages.
If they wrestled in the main event of WrestleMania 29, the chances are very good that the event would sell out in record time. Both of them are much bigger stars than they were ten years ago.
Even as part timers, that match is enormous and is definitely the biggest money making match that WWE could hold in the main event of the biggest event of the year.
Twitter @johnreport