Hogan teases a return to the ring, Ted Dibiase talks his son's departure, and Dixie Carter is a maniac.
It's no secret that we at Thursday Headlines aren't the biggest Hulk Hogan fans in the universe. His name gets dragged through the mud a lot around here, and I think an explanation of why is long overdue.
Here's the thing: Hulk Hogan is the ultimate mark for himself. Yes, he's one of the top three biggest names in the history of professional wrestling, but he isn't currently a top draw. If he was, TNA would be doing just swell. But Hogan, and those he surrounds himself with, believes he's the same star he was in the 80s.
In an interview with a CBS radio affiliate in Cleveland this week, Hogan spoke about possibly returning to in ring action, saying that while he'd like to, it would have to be a calculated moment, as his body just can't take the punishment anymore.
Two things: 1) Hogan should NEVER wrestle again. Not only has he never been anything special in the ring, but he currently has the mobility of your 85 year old grandfather. Seeing him Hulk up and knock out a bunch of young, able-bodied performers is exactly what's wrong with professional wrestling. It's too obviously fake.
2) I can be a narcissistic jerk myself, so I understand Hogan's language when he says a return to the ring would have to be a calculated move. He's saying "I'll get back in the ring when I'm out of TNA and back with WWE, because my current employer isn't savvy enough to turn my return into a big payday. And at the end of the day, BROTHER, Hulk only looks out for Hulk." (PWtorch)
Nobody needs to see this anymore...
_________________________________________
According to a high ranking source within the WWE head office, Superstar Rey Mysterio is considered "semi-retired" and is probably finished as a regular week to week wrestler. While this was hyped as a major story, guys like Brock Lesnar, Triple H, and the Undertaker have paved the way for current legends of the ring to cut back on their "in-ring minutes." Now only if we can get the entire Divas roster (with the exception of Natalya and AJ Lee) on this plan… (SESCOOPS)
_________________________________________​
It's impossible to not feel bad for Dixie Carter every once in awhile. With TNA, she's clearly in over her head, and she's become a pinata for hardcore wrestling fans over the past few years. Still, she's trying to turn TNA into a successful promotion. A noble endeavor to be sure. In a recent discussion with Suplex Media, Carter explained that she will fuel TNA growth by investing in non-wrestling projects moving forward. When asked what kind of non-wrestling projects she'd specifically be investing in, Carter replied "MAGIC BEANS, WIDGETS, AND DOODADS!" and began laughing maniacally. (PWtorch)
_________________________________________​
The "Million Dollar Man" Ted Dibiase spoke about his son's recent departure from the WWE, citing Jr.'s desire to spend more time with his family. While Ted Dibiase Jr. never replicated his father's successes in the ring, he will forever go down as a man with an abundance of untapped potential. Seriously, we haven't seen this much potential go wasted since Marty Jannetty was eliminated on just the first week of the popular game show "Guess What's In My Fannypack!" Turns out everyone knew it was Ritz crackers. (SESCOOPS)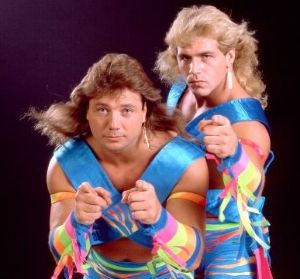 _________________________________________​
Be sure to check out the latest SharpShooter Cast. This week, we discuss:
- An analysis and review of the 8/26/13 episode of Monday Night Raw.
- Should racism be a part of professional wrestling?
- Tom goes to a WWE house show, and why Aaron didn't.
- A review of Mick Foley's novel - Tietam Brown.
- Listener question: Are gimmick matches being properly used in today's professional wrestling?
- Who will ultimately have the greater legacy in wrestling: Triple H or Chris Jericho?
Here's the STREAM:
Click HERE for the Direct Download. And you can get our entire catalog on iTunes. Leaving a rating would be greatly appreciated.
Let us know what you think of the Jericho vs Triple H topic in the comments. Who do you think will ultimately have the greater legacy in professional wrestling?
_________________________________________​
Written by Thomas and Aaron Briggs
Email Thomas HERE