With the NHL season finally underway, the Netminders looks at the best goaltending tandems in 2013
With only 48 games to make their mark in the NHL standings, each NHL team needs to be firing on all cylinders consistently throughout the shortened 2013 season. Offensive firepower needs to be in top-notch condition, and the defenders must be willing to sacrifice their bodies for the benefit of the team.
But any true hockey fan is aware that goaltending is what makes a successful playoff run in the NHL, and with a limited timeframe to work within, league backstops are already gearing up to be in playoff form. Today, the Netminders looks at the five best goaltending teams in the game today.
Antti Niemi / Thomas Greiss – San Jose Sharks:
It is clear that the San Jose Sharks have placed a great deal of faith in fifth-year net guard Antti Niemi. In his 135 games with the Sharks, the 29-year-old Finn has recorded 75 wins and 16 overtime losses for 166 of a possible 270 points.
What is more impressive about Niemi is that he has recorded 12 shutouts during his tenure with San Jose, and has maintained a .923 save percentage while a member of the "Big Fish," and has a career low 1.80 goals against average through 7 games this season.
But on the occasion that Niemi needs a rest from his duties in between the pipes the Sharks have looked to 27-year-old Thomas Greiss to hold down the fort.
While he has started only one game in 2013, Griess has been perfect, recording a shutout in a 4-0 drubbing of the Colorado Avalanche on Jan. 26, 13. In that game he faced 24 shots, turning aside each one en route to a career .913 save percentage.
Since entering the NHL in 2007/08, Greiss has gone 17-12-3 for the Sharks and has logged over 2000 minutes of ice time. Given the stellar performance of Niemi so far this season, Greiss will certainly not see a great deal of playing time, but will be an important piece of the puzzle when given the nod if San Jose hope to make 2013 their year.
Henrik Lundqvist / Martin Biron – New York Rangers
It is true that Henrik Lundqvist's 2013 season has not gotten off to the start he had hoped, as the reigning Vezina Trophy winner has won only 3 of 7 starts this season. Being yanked from the net in only his second game of the season, Hank's performance has been underwhelming to date, as he currently ranks 20th among active goaltenders in wins, 33rd in goals against average, and 34th in save percentage.
But despite his struggles early on, Lundqvist remains one of the most dangerous backstops in the game today. King Henrik holds an NHL record for consecutive 30-win seasons with 7, and while that amazing run will end this season (only due to the NHL Lockout) the Swedish net minder has an incredible professional history.
Since being drafted by the Rangers in the 7th round (205th overall) of the 2000 NHL Entry Draft, Lundqvist has gone 255-159-54, recording points in 65% of his games. Additionally, he holds an impressive .920 save percentage and has faced over 13,200 shots in his career.
But when King Henrik's reign in New York hits a snag, there is no one better to back up the star than experienced journeyman Martin Biron.
The former Sabre, Flyer, Islander and current Ranger has been rock-solid so far in 2013, recording only 3 goals against in over 90:00 of play. On Jan. 20, 13, Biron relieved Lundqvist before the mid-point in the game and deflected 19/20 shots in the loss. Moreover, in his start against a strong Tampa Bay Lightning squad this past Saturday Biron looked like he may give Hank a run for the starter's job in New York, as he made 30 saves in a 3-2 win.
Marty's career 229-188-25 record is among the best in the NHL today. Any Ranger fan can feel at ease with Lundqvist or Biron between the pipes, but when Henrik struggles, Martin Biron is one of the best to have on reserve.
Roberto Luongo / Cory Schneider – Vancouver Canucks
Unlike the Rangers situation in which their number one goaltender has struggled, it seems like backup net minder Cory Schneider has been lackluster as of late, creating a goaltending controversy in "Van City." Sports media around the NHL had speculated that fallen star Roberto Luongo would be shipped off and Schneider would assume the bulk of the playing duties, but these rumors seem to have been put to rest for the time being.
Luongo has looked solid so far in 2013. In 5 starts, the 33-year-old Quebecer has recorded 4 points for the Canucks, winning two games and bringing two others to an extra frame. His save percentage to date has been the best of his career at .944 and his 1.46 goals against average is even better than when he anchored a star-studded Canadian Olympic team in 2006 and again in 2010.
While Roberto has put the trade rumors to bed and has again emerged as the Canucks foremost goalie, he is certainly going to need some resting time throughout the hectic Western Conference schedule. Schneider, despite his early struggles, has already proven that he is an elite backup in the NHL and would be an excellent first-stringer for many clubs.
Schneider's career save percentage of .926 is actually better than that of his counterpart and mentor's, as is his goals against average. In his short career, Schneider has recorded an NHL record of 40-19-4 in his first five seasons, earning points in 61% of his games. Luongo, in his first five NHL seasons, posted an 80-138-33 record, and produced points in only 42% of his contests.
Of course, many factors are involved when looking at these statistics. Some would argue that Luongo has played for some bad teams early in his career, while Schneider has a solid lineup in front of him. Having a backup that posts better career statistics than your starter, however, is a situation every team would like to find themselves in, and no matter who is in the crease, the Vancouver Canucks should be pleased with their options in the net.
Corey Crawford / Ray Emery – Chicago Blackhawks
Over the past three seasons, 28-year-old Corey Crawford has shown that he is one of the most consistent goaltenders the NHL has to offer. His stable play in the blue paint has given the Chicago Blackhawks a renewed hope in making a run to the Stanley Cup, and it all starts from the net outward.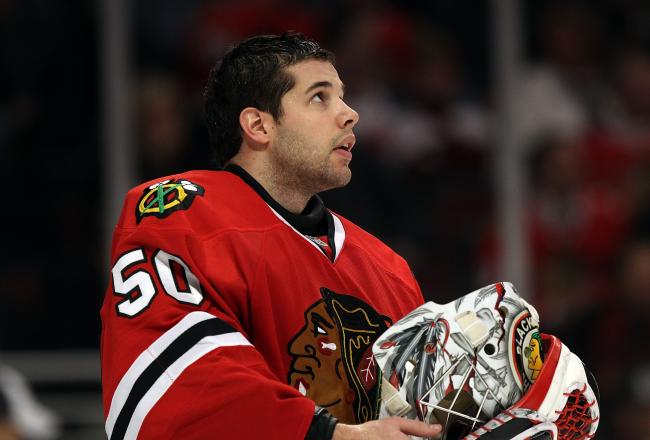 During his NHL career, Crawford has displayed a 69-38-16 record in 129 games. While nothing to write home about overall, the past three seasons show how effective Crawford has become.
In his 121 games since taking on a starting role for the Hawks, the Montreal, Quebec native has posted 2 consecutive 30+ win seasons and has averaged a .918 save percentage. He has grossed points in 83 of those games, and is currently on pace to have another career season, as he is in the top 15 in every major goaltending category.
When being touted as the goaltending future of a franchise, it never hurts to have someone as experienced and well-traveled as Ray Emery in your corner. The 2001 4th round draft selection has had his share of the spotlight, being known more for his off-ice antics than his on-ice performance.
But Emery has unheralded skill and leadership ability that would help any team, and now that he has quieted down a little in Chicago, his game has improved. Over the past two seasons in a Blackhawks uniform, Emery has boasted a 17-9-4 record with 4 shutouts and has received the acceptance of his teammates.
This past Saturday, Emery played to a shootout win over the Calgary Flames, and made a career high 45 saves in the win.
"He was awesome, fun to watch," said fellow Blackhawk Patrick Kane. "We have confidence in him. He really showed us tonight."
With Crawford as the number one man and Emery able to pull off performances like he had against the Flames on Saturday, it is not beyond the realm of possibility that Chicago is going to make a splash in the Western Conference run for Lord Stanley's Mug in 2013.
Marc-Andre Fleury / Tomas Vokoun
When the Pittsburgh Penguins signed veteran net minder Tomas Vokoun in the offseason, many fans chastised Mario Lemieux and his management team for bringing on an old man that was clearly past his prime.
But, oh how opinions change now that the Czech backstop has started the season with three wins in his first five games. Vokoun, who has been known for inconsistency since leaving the Nashville Predators in 2007, has been amazing so far in 2013 and currently has the best save percentage and goals against average of his career. He has teams such as the Rangers totally figured out, winning both contests against the Blueshirts this season and shutting them out on one occasion.
Aside from an upswing in his personal statistics so far this season, Vokoun adds much more to the Pittsburgh franchise in terms of his leadership and mentorship to number one goaltender, Marc-Andre Fleury.
While Fleury brags a 229-145-2-41 record with 22 shutouts in the NHL, consistency has not been a strongpoint for the Stanley Cup Champion and team MVP. Fleury's .897 save percentage, for example, rivals the worst in his NHL career, as he has not experienced these numbers since his first two seasons. His goals against, however, is currently 2.67, the exact figure as when he and the Pens won the Stanley Cup in 2009.
There is no doubt that Marc-Andre Fleury has established himself as an elite goaltender, but he clearly still needs some leadership and guidance. If Tomas Vokoun can continue to provide that direction as a backup and mentor, the Penguins will again be in the hunt to raise the NHL's top Prize.
Questions, comments or just want to talk hockey? Give me a follow @missionaborted on twitter.