Matt Kenseth may have fallen short of winning his second NASCAR Sprint Cup championship, but he's got nothing to be ashamed of, as he's got a brilliant shot at it in 2014!
Maybe the first thing that comes to mind with Matt Kenseth's amazing 2013 NASCAR Sprint Cup season was "empty dominance," as his series-leading seven wins wasn't enough to curtail Jimmie Johnson from winning his sixth championship.
Instead, it's a brilliant year that resulted in a runner-up finish, almost like being the prettiest girl in a beauty pageant but being bested by the usual favorite - or in this case, pretty much being Matt Kenseth in NASCAR. A winning racer with a very quiet, dry, sarcastic personality, some don't notice him when he speaks, but when's behind the wheel of that No. 20 Dollar Genera/Home Depot Toyota Camry, he's about as competitive as anyone gets in NASCAR racing.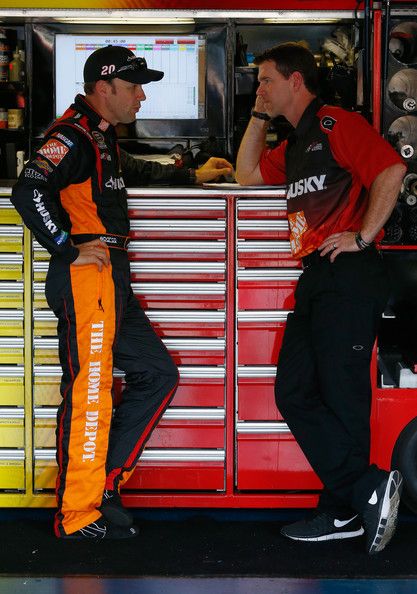 Kenseth, crew chief Jason Ratcliff, and the Joe Gibbs Racing brigade shouldn't hang their heads over this remarkable year, as they came into the year with a mission and it was nearly accomplished.
Some figured that the pride of Cambridge, WI was crazy to leave the Roush-Fenway Racing campus after the season finale last year, as he already knew what kind of equipment and resources he had with the perennial Ford racing team.
He was nuts, over the top, and he'd probably not find the same solid success he had with RFR, right?
Exactly - he more than doubled the number of trips to Victory Lane this season as opposed to what he did in the past two years alone, winning seven times.
As if that wasn't impressive, the 2003 Cup champ also logged 12 top-five finishes and 20 top-10's, which was about as good as it gets in most other years - just not in 2013.
That said, it was a season where the 41-year-old cagy veteran held his own against the sport's young guns, showing no signs of slowing down against his hungry JGR teammates Kyle Busch and Denny Hamlin or the usual suspects like Kevin Harvick, Jimmie Johnson, Jeff Gordon, or Greg Biffle. Make no mistake - Kenseth didn't look like a guy who was slowing down one bit.
In fact, he looked like a guy ready to win more races and championships. He's found himself in the perfect situation with the powerful Joe Gibbs Racing organization.
This very same group seems to finally have a winning engine combination from Toyota Racing Design, a struggle that befell this team late last year and earlier in 2013. Those issues seemed to be an afterthought, as consistency, wins, and strong performances balanced out the rest of this strong season.
Wins at Las Vegas, Kansas, Darlington, Kentucky, Bristol, Chicagoland, and Loudon were among the sparkling highlights of the year, remarkable in that Kenseth flexed his dominance at the 1.5-mile speedways as well as the confining, short tracks. Like most drivers in their new rides, there was a bit of a growing pain period early on, starting with that 37th-place engine-related DNF at Daytona, a 35th crash-related finish at Bristol, and another motor failure at Dover that netted a 40th-place effort.
Only running into three hiccups this year, it's remarkable to note that Kenseth would place outside the top-25 just once after his 40th at Dover, which would be a 33rd-place finish in the July Daytona race.
Otherwise, Kenseth was a regular fixture as a top-10 finisher during the final 22 races of the year, truly putting on a performance for the ages. A lot of that could be attributed to the phenomenal pit crew who reeled off and busted some lightning fast pit stops that only propelled their driver to wins. Rarely did the No. 20 pit crew let down their driver and leader Jason Ratcliff, often beating the top Cup teams and getting that Camry in the lead at most venues.
Just 19 markers separated Kenseth from truly capping off what would truly qualify as a nearly flawless season. Consider how everyone was at a equal-level disadvantage in learning the Gen-6 car, that he was adapting to a new shop, crew, and environment, and when you consider his accomplishments in 2013, it's astonishing and lights out incredible. There's amazing team chemistry from the driver/crew chief to that dedicated crew that goes over the wall or massages their arsenal of cars at the JGR race shop and they all want one thing now: the 2014 NASCAR Sprint Cup championship trophy.
For now, it might seem like a long, cold winter but they'll heat up faster and they're probably the one team that's most looking forward to starting off 2014 when the haulers, personnel, and drivers arrive for Daytona Speedweeks. In order to get that Cup, it's about starting the year off right - mission number one is winning the Daytona 500; the rest, they know what they have to accomplish from there on out.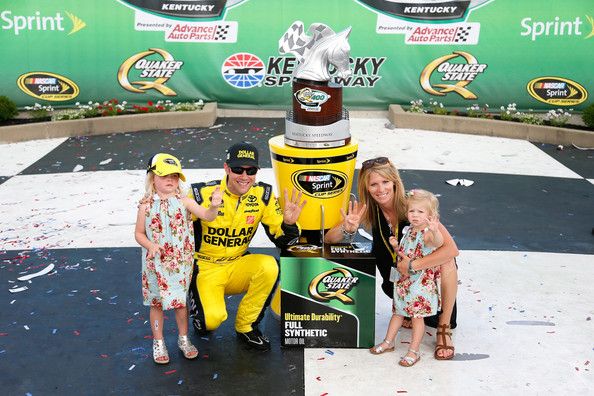 The man has it all - he's got a beautiful wife in Katie, a son in Ross who's grown into his own racer, and two daughters in Kaylin Nicola and Grace Katherine. Not to mention, he's got one of the elite crew chiefs of the series, a flippin' fast pit crew, and two aggressive but amazing teammates in Kyle Busch and Denny Hamlin who've proven to be a powerful trio that truly strengthened their driving styles and team chemistry to a brand new competitive level.
Saddle up, partner. Could be another career year for the racer who's schooling the youngsters of the NASCAR Sprint Cup Series. Spare him the old man references - he's the Peyton Manning and Tim Duncan of stock car racing: a talent who's still got plenty of competitive fire that could truly, as Fall Out Boy sang this summer, "Light 'em up, up, up."