While NASCAR at Bristol looked like stock car action, the IndyCar race at Sonoma looked like...well NASCAR.
Following a few weeks away from the racing docket, the IZOD IndyCar Series returned to the motorsports scene with this past Sunday's GoPro Grand Prix of Sonoma. In a race that bared more resemblance to stock car action as opposed to the usual sophisticated open wheel frenzy in Sonoma, CA, the action wasn't lacking and the drama wasn't limited to the winding road course.
Also on tab was a Saturday night duel at Bristol Motor Speedway for the NASCAR Sprint Cup Series. With Chase positions still in the offing and a competitive short track awaiting 43 of the sport's top stock car drivers, frayed tempers and banged up sheet metal would be the name of the game for the Irwin Tools Night Race.
Let's first get started with Isabelle's look back at the IndyCar race at Sonoma: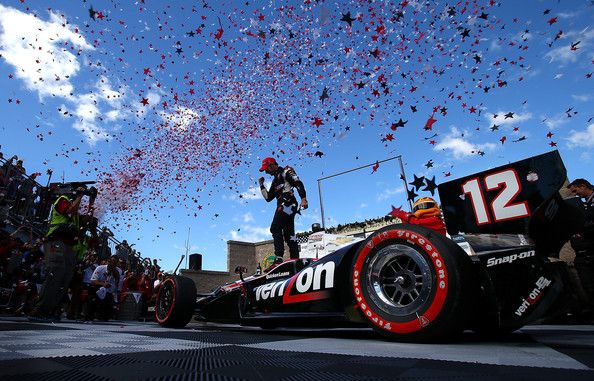 This weekend, IndyCar returned to Sonoma and it looked more like they were playing with bumper cars at an amusement park instead of racing in wine country. On the very first lap of the race, Charlie Kimball had to pull off course in turn two after bumping with Helio Castroneves, which caused the first yellow of the race. Six laps later, Justin Wilson spun in turn seven after connecting with EJ Viso and brought out the second yellow of the race.
On lap 17, there was yet another yellow for Simona de Silvestro since she had to pull over in turn seven after making contact with Sebastien Bourdais. EJ Viso also received a drive-through penalty for avoidable contact with Justin Wilson. Joining Viso in the Black Flag Club was Sebastien Bourdais for the incident with de Silvestro. On lap 22, the fourth caution of the day came out when J.R. Hildebrand, who was driving in the 98 car for Bryan Herta Autosports, spun after making contact with Tony Kanaan, who later received a drive-through penalty for the incident.
Just eight laps later, the yellow came out for a fifth time when Jakes pulled to the side of the track in turn nine. A few laps later, Saavedra received a drive through penalty for making contact with James Hinchcliffe (the incident didn't bring out a caution since The Mayor was able to keep going). An incident involving multiple drivers occurred on lap 63, bringing out the sixth caution of the day. And on pit lane the next lap, Scott Dixon and Will Power pit together.
As Power and his crew were finishing their stop, Dixon pulled out of his pit and struck Travis Law, Power's outside rear tire changer, sending him and two other crew members to the ground (all three received only minor injuries). Dixon then received a drive-through for pit safety violations. On lap 79, there was an accident involving Charlie Kimball, Ed Carpenter, and none other than Takuma Sato, which brought out the final caution of the day. Will Power went on to win the GoPro Grand Prix of Sonoma.
The number of cautions in this race was too damn high. It started to feel like there was one every few laps, which dragged out the race because of so many laps under caution. I think cautions here and there are ok, but when you set break the record for amount of cautions for your series at a track, you know there are too many accidents going on. Hopefully the drivers get it together for the Baltimore race this weekend.
I absolutely think the penalty on Dixon was the right call. According to race control, he was a good ways into Power's pit stall. That's unsafe to begin with. But then he also hits a crew member, which is even LESS safe. Thankfully, they weren't hurt too severely, but Travis Law, if not the other two as well, could've been hurt so much worse. So a penalty for pit safety violation makes complete sense.
What makes me especially angry is the reaction from Scott Dixon and Mike Hull, Target Chip Ganassi Racing managing director and Dixon's strategist. In a post-race interview, Dixon said, "It looks like he (meaning Travis Law) walked straight into our car. You could see where the other car in front of us was pitted and he walked into us, on purpose. That's probably the most blatant thing I've seen in a long time."
Mike Hull tweeted after the race, "Have now watched a real replay; understand safety, but he walked into us; @IndyCar needs to move from postage stamp video into real world; @scottdixon9 been affected now twice & @dariofranchitti (Toronto) by their lack of tech upgrade in a so-called-innovative series. Thought they're in same bldg as IMSProductions." I have trouble believing that ANY crew member would purposefully put themselves in any kind of danger like that. Plus blaming the guy you hit for being hit by you is completely uncalled for and unnecessary in a situation like this.
For more on the NASCAR race at Bristol, here's Rob's recap: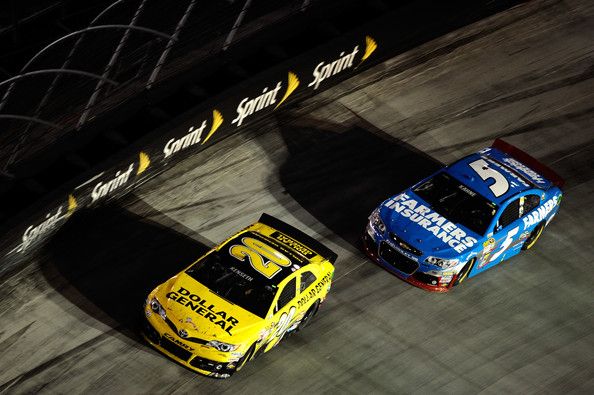 With just a few races remaining before the conclusion of the "regular season," the NASCAR Sprint Cup series' drivers and teams hit up the fast and brittle Bristol Motor Speedway for the Irwin Tools Night Race. Heading into the race on Saturday night, many eyes were on Kyle Busch, who had captured the checkered flags for the Camping World Truck Series and the Nationwide Series events. Could he possibly repeat his amazing feat from 2010?
Also in the spotlight were the Chase bubble racers like Dale Earnhardt Jr., Brad Keselowski, Kurt Busch, and Jeff Gordon. Four of NASCAR's most popular drivers found themselves needing a strong finish at Bristol in efforts to make an earnest and strong run at the playoff field. Ultimately, Hendrick Motorsports' Earnhardt and Gordon would go on to have strong showings while a pair of former Cup champs struggled to score solid finishes.
From the get go, Denny Hamlin, who was the polesitter, led the field to the green flag and early on looked like the car to beat. Throughout the race, as ESPN on ABC Sports' Allen Bestwick put it, there were a pletora of "see-saw" strategy in the pits, splitting up the leaders and essentially making it a race to stay on the track to avoid a green flag pit stop. That tactic helped Gordon and Busch climb from their 32nd and 43rd starting spots to being contenders all race long.
Carl Edwards had the strongest car of the evening, pacing the field throughout the evening before equipment issues sidelined him for the rest of the race. Matt Kenseth would then assume race command and go on to lead the most laps, staving off challenges by Gordon, Kasey Kahne, and others to go on to win the 500 lapper.
For only the fourth time this season, Kahne was a bridesmaid to Kenseth, deciding to play it "safe" instead of doing a Bristol stomp for the win. Still, his stellar second place effort vaulted him to the eighth spot in the points race, well within that top-10 points position to gain bonus markers before the first Chase race at Chicagoland Speedway.
Meanwhile, some drivers put on some great showings, like Juan Pablo Montoya's terrific third place, Brian Vickers' fourth place showing, and David Ragan's 12th place effort. Those three drivers and teams needed some solid performances and each brigade didn't fail to deliver.
The Cup circuit now heads to Atlanta Motor Speedway, where Denny Hamlin hopes to repeat his win from last season while Jeff Gordon hopes to get his first win of the season. ESPN carries the coverage live at 7 PM EST starting with NASCAR Countdown followed by the race itself at 7:30 PM EST. Till next time, friends!