If NASCAR had "Mr. Excitement" with Jimmy Spencer, Taylor Moxley is "Miss Electricty," as she's ready to take on the Florida Pro Truck Series by the horns!
Determination and absolute guts are some of the qualities that's needed to be successful in racing, whether you're that young driver competing on a short track or a budding journalist typing up the next hot tweet or article to get noticed amongst the established in this sport. Often times, our families are right there as our cheerleaders and first fans when we're working towards becoming established and recognized. At the end of the day, what we truly want is to be successful, to know our efforts mattered, and because of that, we'll work hard to ensure that we're in a position to win.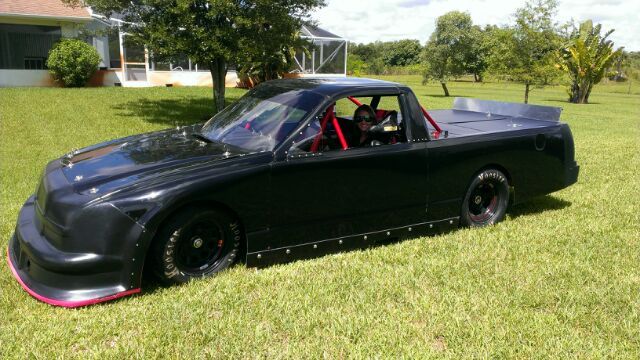 In the case of 17-year-old Taylor Moxley of Hobe Sound, FL has endured those struggles and successes in such a short time. She's tasted success and experienced the setbacks that's only made her a stronger, resilient, and remarkable talent to be reckoned with this year in the Florida Pro Truck Series. Mostly racing karts and dirt tracks, she's developed those skills on and off the track to be one of the next "big ones" in auto racing, particularly with an eye towards NASCAR.
Beautiful, determined, and driven are some ways to describe Moxley. Even with some of the things she's had to go through, she doesn't seek pity, even when you read some of the experiences at the track. Moxley's approach with life is a bit like the lyrics from Miley Cyrus' "We Can't Stop," which would go "We can't stop, and we won't stop. Can't you see it's who we own the night?" Nobody will deny her from being in Victory Lane or from climbing up the racing ladder, earning her stripes and quality racing drives with each step of the way.
To be honest, Moxley is a refreshing racer in that she's got that old school attitude and flair on the track. Throwback in that she's out to do things her way and do them right, it's this approach that's sorely missing in today's racing and she's bringing it back.
She doesn't want to be just another female racer but a driver that's regarded as an equal who'll trade paint and worry more about that trophy and the wins. Humility is also prevalent with Moxley, as she's the first to acknowledge those who've helped her realize her racing dreams.
I got to talk with Moxley about her racing career and plans for the year, as well as acquaint myself with this wonderful talent.
Needless to say, we at TPF are pleased to introduce this racer's story to the masses and we'll have more on her as the year progresses.
Right now, grab a seat, a bite to eat, and enjoy this newest piece on TPF as we'll get "In the Driver's Seat with Taylor Moxley, Florida Pro Truck Series Racer!"
Rob Tiongson : For the race fans here on TPF who are learning about you, tell us a bit about yourself and how you got started in racing.
Taylor Moxley : Well, I got started racing when I was 11. I grew up around racing. In fact, for my first race, I was still inside my mother's belly. For as long as I remember, I would go to school after the weekend and brag about how my dad had done in his race that prior weekend. My dad wanted to start me off in racing in something small and move me up. This 2014 race season, I'm starting off my rookie year in the Florida Pro Truck Series.
RT : Who are some of your influences when it comes to this sport and would you say that you try to take a piece of their driving style or demeanor when you're behind the wheel?
TM : I would have to say my father is my biggest influence. I mean, if it wasn't for him, I wouldn't be where I am today. Growing up watching him race has taught me more than anyone else will ever be able to. He's taught me to never give up on my dreams and that I can do anything I set my mind to, no matter what. I owe my dad everything for that.
​RT : Racing has often been branded as a sport that's been male dominated although in the past few years, we've seen the progress of women and minorities in NASCAR and drag racing. Have there been moments where it's been a struggle and if so, how do you overcome those challenges?
TM : There have been two serious moments that I can recall being clear as day where it has been rough being a female I'm a male dominated sport. The first one was at a dirt track race. I had been getting ready in my trailer and walking to the line up grid with my helmet on. I didn't want anyone to know I was a girl. During the final feature, there was a kid just a few years older than me who took me out intentionally.
He pretty much destroyed my go kart while wrecking himself. When the race was over, he got off the track and came up to me screaming at me and he seemed as though he was going to put his hands on me. I took my helmet off set it down in the go kart and when he realized I was a girl, he started to apologize and then admitted to our wreck being his fault. I was honestly hoping he would've hit me. I don't like being treated differently because I'm a girl. In fact, I'd rather someone race me as hard as they would any other male.
My other encounter was at a triple crown race where my drafting partner had motor problems and was forced to pull off the track, leaving me alone and helpless. I was about to get lapped with one to go, so I just went on the high side in the turn so everyone could go under me. Apparently, I got into the way of the fourth place person, and when he got off the track, he proceeded to yell and scream in my face.
The fight got broken up a good three times before he walked away from me. Needless to say, racing as a female is hard. But I wouldn't change a thing about it.
RT : Take us through a typical week in racing. Are there certain routines that you stick to, preparation wise, to tackle your next race and would you say that you're superstitious?
TM : The week prior to my race is nothing different than any other race. I go to sleep early on Fridays instead of going out, but that's about it. Every morning before I race, my parents, race crew, and I go to this little mom and pop restaurant right down the road from the track. And we all order the same thing. Every. Time. The only real superstitions I have are good luck type things, like if a lady bug lands on you, it's supposed to be good luck. I don't believe that green and the number 13 is bad luck. Green is actually my favorite color!
​RT : What have been some of your proudest achievements thus far in your racing career and some that have made you into a more complete driver?
TM : My proudest achievement would have been my last race of my 2012 season when I won the points championship. After two years of racing and getting screwed out of the championship, I finally came off the track after the last race and was greeted by my dad lifting me out of my kart and hugging me.
I'm not an emotional girl by any means. But to see how proud my father was of me was my most memorable and favorite part out of my racing career.
​RT : How much of success on race day is all on the driver and how much of it is attributed to the equipment and crew, in your perspective?
TM : In my opinion, a racer isn't a racer without their crew. You can't do it all alone. It's physically impossible. There have been days where my crew have thrown wrenches at me, and days where I've thrown my gear at them. But at the end of the day we all sit at the table and eat like family.
​RT : Off the track, what are some things that you enjoy doing to help balance your racing passion?
TM : Off the track, I'm still thinking about the track. Racing never leaves my mind. I live, eat, and breath racing. My class ring is even engraved with "live, laugh, race."
​RT : Let's stick with the off the track theme here and let's sift through your iPod playlist. What are some songs that you'd say, "Yep, this is totally me?"
TM : Going through my iPod, the first song that I normally play is "Everybody's Got Somebody but Me" by Hunter Hayes. Every time I hear it, it just makes me giggle. At school, the mall, and even at the race track, there are a bunch of people walking around so happy and smiling with their significant other. And I'm over here all like, I like racecars....
​RT : How would you say your future in racing looks and what are your plans for 2014?
TM : My future in racing looks pretty promising. As long as I keep my head on straight, and my eye on the prize, I plan on going places. And I won't stop until I get where I want to go. Nothing and no one can stop me.
​RT : What is one thing about you as a racer or a person that you'd think would surprise family and friends?
TM : One thing as a racer that would surprise my friends and family is that while I sit and wait to go out on the track, I literally tremble with fear. Fear that something will happen, and it will be the last time I see my family and friends again. Fear that something could go wrong, and I could lose my life over it. I refuse to live life with my tail between my legs, but for those 4 or 5 minutes, I sit and I pray.
Author's Notes : I'd like to personally thank Taylor for taking the time to let me interview her as she prepares for her 2014 racing season! All of the photos here are courtesy of Taylor Moxley Racing. If you'd like to learn more about her, "Like" her Facebook page and be sure to watch TPF's materials as we'll focus on her efforts this year!