It's been a season to remember for 16-year-old Taylor Nesbitt, a NASCAR prospect who went to Victory Lane on multiple occasions this year. Now she's stopping by on TPF to talk about the past and the road ahead!
While the calendar may say it's the off-season for racers, crews, and those in the press, it's a busy time to reflect on the year that was and the principal factors who made the 2013 season one to remember and appreciate. Sure, the cars are back in shops, covered or sitting idle, but the drivers and crews are busy planning ahead while recouping as much as possible before the new year arrives for more racing action to occur.
As for 16-year-old Taylor Nesbitt of North Carolina, she's got quite the year to reflect on, with multiple trips to Victory Lane and heaps of valuable seat time in various stock car disciplines and venues that could only sharpen her talents en route to NASCAR racing. We first met this beautiful and compassionate racer back in late August, getting to know all about her and her career leading up to the 2013 season. Since then, she's participated in a variety of races, including last weekend's plethora of racing action at Myrtle Beach, SC.
Nesbitt is a true winner, as she's always aiming to improve on her skills and focus with the sport, recognizing that she needs that balance between the racecar, the classroom, and her family and friends. Never forgetting to appreciate her own time too, she seems to have a good grasp at how to make her world tick and moving at the right pace, much like her approach with races. Not to mention, despite her successes, she's still the same humble and appreciative talent that we met in August, if not, even more so despite her huge successes in her ever-building racing journey.
While a lot of talk may be placed on NASCAR's current young guns who are just a few steps away from the Sprint Cup Series, with TPF, the focus is on the future and that includes Taylor Nesbitt. A winner, fighter, and a phenomenal talent who's got the makings to be a winner and champion in NASCAR, I'm proud to present this follow-up interview with my good racing friend. In this interview, we catch up with what she's been up to since late August, talk about the season that was, and look forward to the road ahead for this promising stock car prospect.
Recently catching up with Nesbitt, there's a sense of more self-confidence, humility, and a winning attitude, qualities that are often hard to balance, but when in sync, it makes for a determined person that you'd want to be around! Unlike some athletes today, she recognizes her success is a culmination of the support around her along with her own effort, always taking the time to thank her family who've been by her side since day one. She's got a good approach to what she wants to accomplish on and off-the-track and as always, it's a great honor to talk about racing with this great young racer.
Without further ado, let's get the racing firesuit, gloves, and helmet on this time (and yes, you can wear an open-face one, even if it's cold) - we're going to get "In the Driver's Seat (Again) with Taylor Nesbitt, Late Model Sportsman Series Racer" right here, right now on The Podium Finish!
Rob Tiongson : Hey Taylor, it's been some time since we last caught up but from what I understand, you did some racing over at Myrtle Beach, SC! Tell us about this past weekend at the track and how you'd evaluate your races as well.
Taylor Nesbitt : Myrtle Beach was an awesome learning experience. We worked all week on getting fast on old tires. Qualifying was a learning experience in both the car and the truck. We started toward the back in both divisions. However, the cars raced great. After working my way up the field, we had some misfortunes late in the races causing us not to get the finished we had hoped for. However, I learned a lot and had a lot of fun. I can't wait for next year.
RT : With this season just wrapped up and the off season now setting in, how would you grade your season as a driver? Was it more than you expected and did you accomplish most of what you were looking for heading into the year?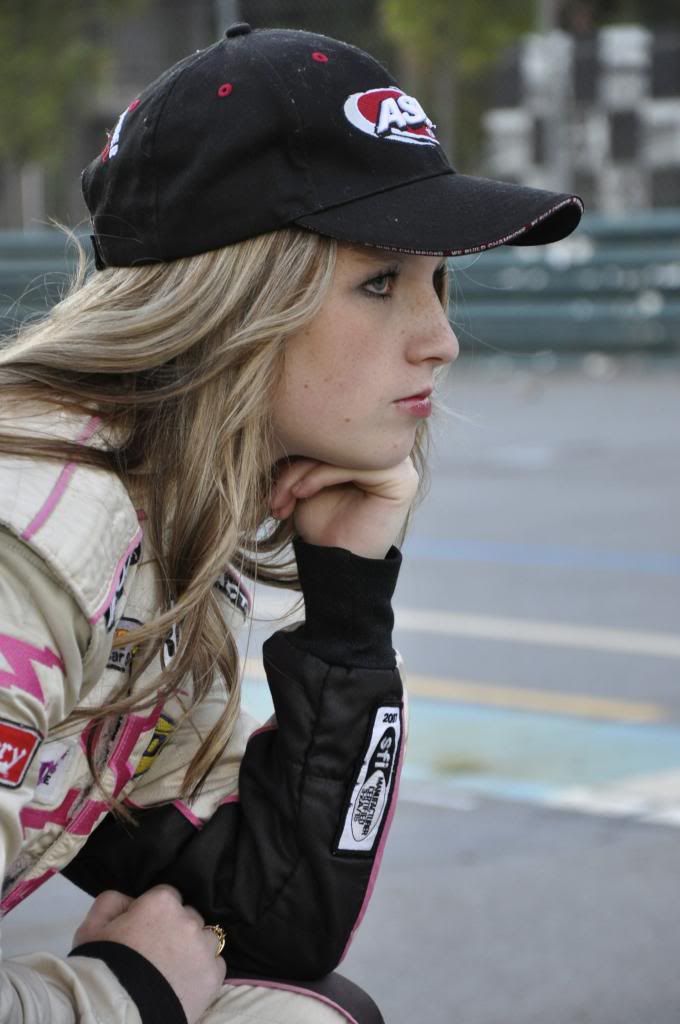 TN : We planned on this year being a learning experience by traveling around to different tracks. I started out the season great with three wins out of the first four races at Newport Motor Speedway. We started traveling to Hickory Motor Speedway the last few races. This was a huge learning curve, because I had never been on a slick, flat race track.
Also, not only did I race just at Hickory and Newport in my Limited Late Model, I also raced at Lonesome Pine Raceway and in the Southeast Super Truck Series at Anderson Motor Speedway.
We ended the season this past weekend at Myrtle Beach. I feel that with this season, I have learned a lot and progressed in my driving ability, which is what we planned on. Maybe even more.
RT : What were some of the things that you learned as a racer that will carry into 2014 on and off-the-track?
TN : I learned a lot as a racer. The main thing is I learned how to race on slick and flat race track, unlike the banked race track of Newport. Also, I learned how to adapt quickly at new tracks and be able to race competitively in both the car and truck at whatever race track I am at. I also developed a new skill of communicating with the team on issues and changes that need to be made. So I feel that the things I have learned this year will benefit me in years to come.
RT : We all know that racing is a family oriented sport. Does it ever strike you that you get to pursue your dreams and right by your side are your father and family supporting you each step of the way?
TN : Yes, if it wasn't for my father and family, I wouldn't be in the sport. My dad is my biggest inspiration. I also think of my race team as family. Having that huge support system and help is my driving force in pursuing my dreams. It wouldn't be the same without them there. They are the reason I am able to pursue my dreams.
RT : If you could pick one song from any genre that describes you as a person and as a racer, what would it be and why?
TN : The song would be Jason Aldean's "The Only Way I Know" because both as a person and racer, the pressure can become a lot and I get tired balancing school and racing and everything However, I push through and keep going, never looking back and that is when the best rewards come.
RT : When you're out there on the track, do you try to stick to a game plan all race long or do you improvise or call "audibles" to put yourself in position for the win?
TN : It all depends on the track and the length of the race. In long races such as Myrtle Beach, we have a game plan in order to save tires and get to the front. At the other tracks in short races, track position is key so the plan comes before qualifying and then I improvise mostly during the race using my instincts to get to the front. However, my crew chief and spotter often have a plan and we work together to get up front.
RT : When things with racing get so tough and difficult both physically and mentally, how do you refresh yourself so that on the next go around, it's like polishing up that first lap all over again?
TN : The most important thing is to stay positive. I try to see the positive in every negative. A very important thing is to stay confident and learn from your mistakes. My team and I evaluate our race weekends and make changes needed in order to be better next time. I think always remembering that you need to learn from your mistakes and bettering yourself through every experience is the most important thing in preparing for the next go around.
RT : As a student and racer, was it a balance to try to focus both with the classroom and the driver's seat before the off season's start?
TN : I try to keep a balanced life. Balancing school and racing is difficult but I have always been pretty self-motivated in school and racing. My family and team is always there for support when things get tough. Also, school is very important to my family and I. If I don't make good grades, I don't race, so a healthy balance is a necessity.
RT : Who would you say has been part of your support system with your career and dreams in recent times?
TN : There are so many people who have been supportive through the whole experience. My family, friends, sponsors, and team have been my main support system. I feel that everyone is behind me 100% and we all work together to make our dreams come true. I would also like to thank all of our sponsors this season for the awesome support such as Davis Automotive and Towing, Asheville Auto Parts and Salvage, Alan's Jewelry and Pawn, WP Racing Shocks, and Captain George's Seafood Buffet.
RT : What are some of the things that you look most forward to with the season wrapped up and the holiday season about to kick off? Any fun plans lined up?
TN : I look forward to celebrating the holidays and my birthday with my friends, family, and team. Also, I look forward to this offseason as a time to rest and prepare for next season. Hopefully, I will take a few vacations and focus on school, but that is about all that I have planned for now.
Author's Notes : I'd like to personally thank Taylor for taking the time for me to interview her as we all prepare for the Thanksgiving holiday. It's always a pleasure to talk to her and on behalf of all of us here on TPF, we'd like to wish you a very happy holiday season and Happy Birthday too (soon)! Also, all the photos in the piece are courtesy of Taylor, so thanks for the wonderful pictures to accompany the interview. If you'd like to learn more about her, "Follow" her on Twitter and stay tuned to her racing endeavors here on TPF! Thanks again, Taylor - you TRULY rock!