Between racing and hoops, Haley Moody's more than just one amazing athlete - she's the complete individual! We talk about it all in this latest edition of "Haley Time!"
The calendar may say it's the off-season and that it's late January. Whether you're in the suburbs of Boston, MA or Kinston, NC, it's all the same - a cold, blustery time with a couple of racing individuals just ready for the optimism of spring to arrive! As it is, Haley Moody and her team are busy at work preparing for the 2014 season, actively pursuing partnerships and sponsors for the year ahead as well as tidying up for the battles ahead at the track.
In addition, it's the third week of the Search for a Champion racer contest sponsored by Champion Spark Plugs. With just a couple of weeks left in the competition, Moody finds herself within striking distance of the top-15, having made some progress in the most views and has made a tremendous push for votes with family, friends, race fans, and social media users across the country.
Every vote counts and with each coming from individuals like our readers on The Podium Finish each day, it's the difference between advancing onto the finals or missing the cut. To say the least, Moody and her team, as well as her family and friends, have made a huge push to get votes and each one can help a lot!
As if race season preparations wasn't enough, Moody's hitting up her collegiate studies, taking up nursing and working her towards a career working in the emergency room. It's safe to say that there is no slow down button with Moody's life, as she's either in the classroom or keeping herself focused on the racing season ahead. Then again, perhaps she wouldn't have it any way, and at age 18, she's certainly just as fast and detailed as her No. 50 Ford Mustang Limited Late Model!
In this latest edition of "Haley Time," we talk about the competition, the cold days of winter, school, and hoops! Much like the classic Bruce Springsteen song, Haley Moody was born to run...on the racetrack as a winner! So if you've been anxious since our first issue, well it's hot off the TPF presses - here's Volume 1, Issue 2 of "Haley Time" with yours truly and Haley Moody, the pride of Kinston, NC!
Rob Tiongson : Well Haley, here we are with Haley Time Issue #2 and it's week three of our competition in the Search for a Champion racer contest. We're in the top-40 in views - doesn't mean we're out of it. But tell the fans here reading this how winning this contest can help out your racing efforts in 2014.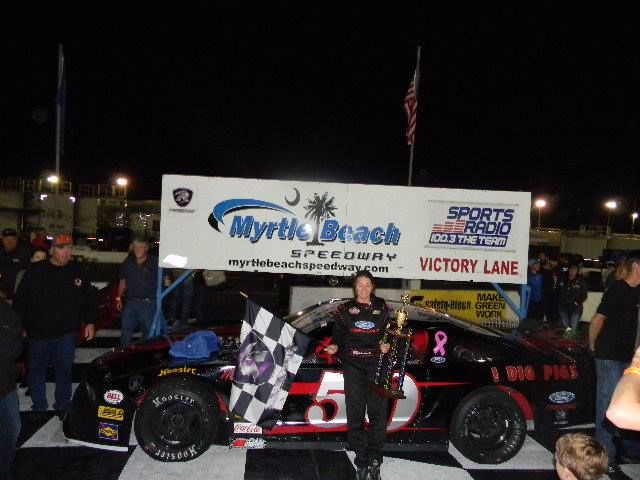 Haley Moody : Well, it would be a huge help in my 2014 racing career. We could race more, be competitive, and also maybe go to different tracks!
RT : And that's key cause the more tracks you can race at, the more skills you can learn with racing different venues in your area too
HM : That's right. It would sure help me improve as a driver.
RT : We're almost approaching the 2014 season and you've shown a lot of muscle and prowess over the past few years. What aspects in your racing do you feel you need to improve on?
HM : Well, you can always improve your driving and maybe being more competitive from week to week. Like being the "one to beat."
RT : True - and that's one thing I've been curious about. As a racer, you probably have observed this. For a new fan that may not be aware, how is it that one week, a driver can excel at one track but in the next week, they struggle?
HM : It just depends. Some tracks run used tires and that is a big factor, or maybe they aren't focused. It really all depends, as each driver is different.
RT : Good points that you brought up here. With you running in limited late models this year, how will this series greatly differ than the Chargers division?
HM : Well, two new tires, two used tires, tougher competition, faster lap times (most of the time)...(laughs)
RT : I think you might like the sounds of faster times in a race, eh?
HM : I sure do! Always wanna go faster.
RT : Especially during the off-season?
HM : YES!! (laughter)
RT : I'll raise a glass of water to that! Now off the track, I've meant to ask, who are some of your favorite athletes that have inspired you with life and racing?
HM : He's not an athlete but he was a coach - Jim Valvano. Don't give up, don't ever give up.
RT : He's certainly a wonderful inspiration to anyone in the sports community. And an NC State coaching legend too - nice choice! Have you seen the entire portion or parts of the speech?
HM : Yes, I've seen it! Best speech made!
RT : I agree a ton on that - it's a saying that can be applied anywhere and even after all these years, I think the spirit of Jimmy V resonates whether in Kinston or all the way in London on that.
HM : That is right, he's a great inspiration to anyone!
RT : Certainly one for me too, right up there with Davey Allison for those who I learned a great deal about when I was growing up. Now not only are you racing this season in the Limited Late Models, you're also taking up nursing for your collegiate studies. The semester just started a bit ago - how's that been going? And do you find preparing for tests and doing assignments just as difficult as navigating through traffic during a race?
HM : Yes, school is tough but I know in the end it will all be worth it!
RT : If I may ask, what inspired you to take up nursing and would you say, even if this sounds like a stretch, that some of the skills you learned in racing help in the classroom?
HM : I've always loved action and that is what I plan on doing, working in the emergency room! I love fast paced things so I guess they kind of go together.
RT : I like how you put it and that's true. And intense paths that not many people would consider, but you're doing them both!
HM : I sure am!! I love it!!
RT : You've got a tremendous heart, that's for sure! Let's do up a little "Racing 101" for the fans here and get a little technical to educate them from the source. This week's word is camber, and some folks who are new to the sport might go, what's that? What is camber and how does that help your car on race day?
HM : Camber is and refers to the vertical tilt of a wheel if you're looking at it from the front or rear of the car.
RT : When you're on the track, do you try to go for a balance with this in terms of a conservative/aggressive set up, without giving away too much info of course?
HM : It depends which track of course.
RT : Now with tracks, do you like the flatter and shorter ones where it's 50 percent on you and the team/50 percent racing the track or the higher banked, more intense tracks where you're legit on the edge each lap?
HM : High banked! (laughs) I haven't really raced on high banks, but SNMP is pretty banked
but I like all tracks.
RT : Another reason why we gotta make sure you win this thing! I'd love to see you race at these tougher tracks soon!
HM : I'm ready for that.
RT: Me too - I'm just ready for you to be on that race track soon so we can see this snow melt. Are you over this winter already?
HM : Yes, I hate it! I love hot weather.
RT : Me too, champ - thinking about the beach and surfing already?
HM : Yes, because I'm continuing learning how to surf! (laughs)
RT : I think there's no such thing as taking it easy in the world of Haley Moody, is there?
HM : (laughs) Not really! Except Sundays - LAZY DAYS.
RT : (laughs) Lazy Sundays. Is this some kind of video we need to do one day for the fans, like rappers or something?
HM : Anything is good with me!
RT : Oh I think the fans are about to see us do some free versin' like no tomorrow! Before we conclude this week's edition of Haley Time, it's something I've meant to ask about your car - on the sides of it, it says, "I Dig Pigs." How'd this come about and do you dig them for the bacon?
HM : My dad owned a pig farm for a long time. It has been on his car ever since he's had one. I guess my dad just loved it.
RT : That's really cool and it's neat that you're carrying on a part of him with your car. And speaking of which, seeing as you are my driver, if a potential sponsor is reading this and is thinking about joining Haley Moody Racing, tell them one reason why they should join this great group!
HM : We could really promote their business well and represent them to the best we can! They will certainly be on a winning team!
RT : Absolutely - not to mention, they'll bee on about the fastest moving billboard that's often at the front too!
HM : That's right!
RT : Oh before I forget, tell the fans at home what'll be happening this Saturday night at 8 PM!
HM : The greatest PODCAST ever and I will be apart of it!
RT : I can't wait for you to be on and you rock. For real. Won't be too long before we have our first Haley Time where we'll get to do this in a video! Alright Haley, before we wrap this up, any one you want to shout out to for HT #2?
HM : SHOUT OUT TO MY FANS! I love you guys!
Author's Notes : It's my pleasure to be working this season with Haley Moody as her official Public Relations Representative. Look for updates and regular features with Haley throughout the 2014 season and if you'd like to follow Haley closely, "Follow" her on Twitter, "Like" her Facebook page, check out her official website, and also stay tuned to future content with Haley throughout the year! Also, don't forget - VOTE for Haley Moody right now to be your Champion Spark Plugs' Search for a Champion racer winner right now and every day! Lastly, if you're interested in sponsoring Haley Moody, email us at [email protected] and at [email protected]!