Natasha Johnson is more than just a beautiful and sweet personality in the garage area - she is the epitome of living life to its fullest! Now she's got her racing stories to share here!
For most race fans and personalities at the track and in the social media circles, the beautiful Natasha Johnson is known by her alias of "HeelsandRacing," her Twitter username. This multi-talented racing personality has a true insider's view of the NASCAR racing world, having worked race promotions and now alongside Kasey Kahne Merchandise. She's a familiar face to her colleagues, always willing to interact with anyone at the track and with stock car fanatics on Facebook and Twitter.
In addition to her presence on the track, she's always very passionate about her health and fitness, cycling and boxing to keep in shape and to strengthen her core much like a driver would for their day at the races. For Johnson's case, she enriches her health to maximize her enjoyment out of life, which in turn, would explain her vivacity and positive outlook. Having competed in various beauty pageants (including Miss USA and Miss America) as well her intense physical training, she would know more than a thing or two about what the racers and teams endure on a grueling afternoon or evening at the asphalt arena. Her hard work and resourcefulness to earn the opportunities she's encountered in her life and career have thus far led to enriching and wonderful experiences.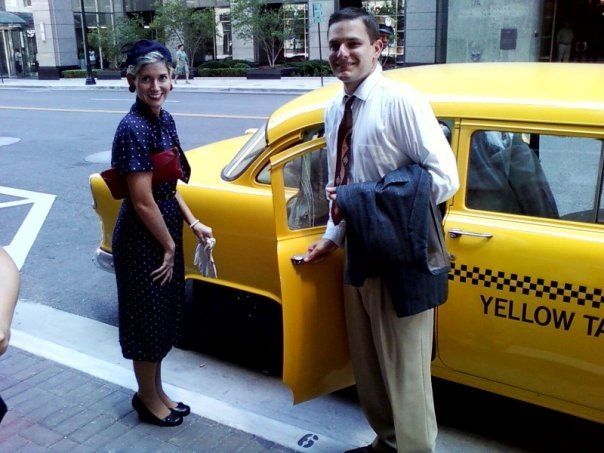 Johnson's the sweet, loving, and caring friend that cherishes every moment in life and values her family, friendships, and those around her each day. She'd just as quickly be the first to offer support, always lending a hand in difficult times and being just as amazing in supporting those who are striving towards the realizations of their dreams. There aren't enough kind adjectives for this wonderful personality whose smile would light up a room with ease. It's safe to say that after this interview, you'll want to know more about Johnson and follow her journey in racing.
I had the opportunity to catch up with Johnson this week, and just as I thought as I knew her, there was a lot more to my friend that (safe to say) we will all learn together! I'm happy to present my exclusive interview with her and personally, I look forward to seeing her story in racing continue with more wondrous and incredible chapters to be realized!
So without further ado, let's start "Getting to Know Natasha Johnson, NASCAR's "Heels and Racing" Personality here on The Podium Finish!
Rob Tiongson : For the race fans here on TPF who may not know about you, tell us a bit about yourself and how you got into the world of racing.
Natasha Johnson : Well, I'm a pretty simple girl that just followed my passions. Most know me as "HeelsandRacing," with "heels" for my background in pageants and then "racing" as obviously my other passion. I started doing race promotions in 2005, and from there, I fell more in love with the sport and my involvement began to grow.
RT : What are some of the jobs that you've had in the world of racing and what do you currently do in this sport?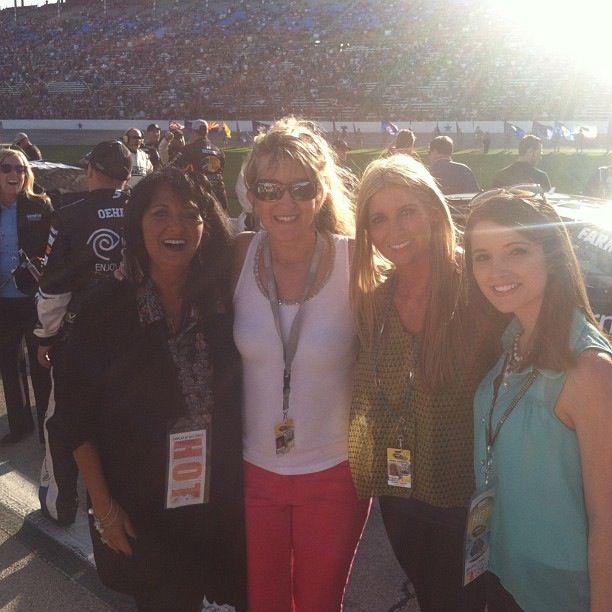 NJ : I started doing race promotions for sponsors in 2005. From there, I was selected as a candidate for the SPEED Road Tour two years in a row. That was a neat process. We all were flown to Charlotte and it was a jammed packed weekend of auditioning and interviews. Later, some racing friends introduced me to a sponsor while at the Chili Bowl Midget Nationals in Tulsa, Oklahoma. By the way, if you've never been, it's a must see event! A week long of inhaling dirt works wonders! (laughs) I then began working for that sponsor, Sage Fruit, and was responsible for many tasks with Kasey Kahne Racing. After a few years of that, I started assisting Tammy Kahne with projects for Kasey's merchandising and fan club. That's something I still help with today. That's it all in a nutshell at least. I've had many great opportunities throughout the years and have been very thankful for this journey.
RT : In addition to racing, you're very passionate about your fitness and health. What are some of the activities that you do to keep in fine shape?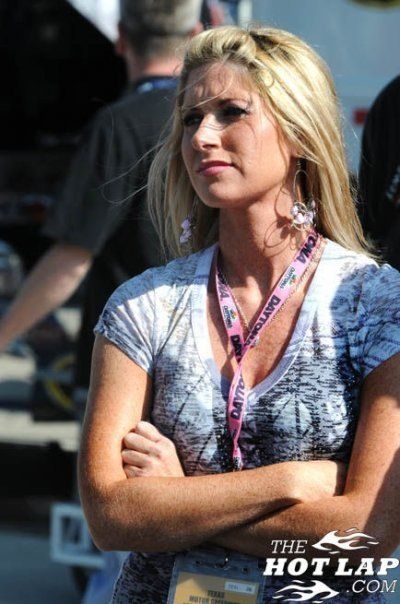 NJ : I've always been an athlete. Since fourth grade, I was involved in cheerleading, basketball, volleyball, and Track & Field. In high school, I was pretty competitive in sports. My two favorite activities by far are cycling and boxing. I actually used boxing to prepare for pageants. It is great for mental and physical strength. I've loved my trainers and have trained with some of the best in MMA (Mixed Martial Arts) and Boxing. From a Strikeforce fighter showcased on HBO to a two-time Muy Thai World Champion, I learned a lot!
My favorite was Strength and Conditioning with the fighters and others! It was intense! We'd take sledgehammers to tractor tires and headstand push-ups with our feet up on the wall, all in a 104 degree building during the summer! I miss Steve, best trainer ever! There are a lot of similarities I've found with pageants, MMA, and racing. Today, I hold my Personal Trainer Certification (NASM CPT) and MMA Conditioning Specialist certification with the National Academy of Sports Medicine, so if you need a trainer...(laughs)
RT : You maintain a very great relationship with racing personalities and fans through your social media outlets, which is how our friendship formed. Just how vital is Twitter/Facebook for you in terms of how you've gotten to embrace the world of racing?
NJ : Social Media as a whole I have found vital in life. I've used it for business, sponsors, and friendships. In fact, I was the Social Media Director at Sage Fruit.
I launched their whole Social program, which was key for connecting the racing sponsorship we had with Kasey to the racing fan base.
On a personal level, I've been at the track on a number of occasions where I was being introduced to someone and they would say, "Oh, HeelsandRacing, I know you!" laughter)
The same has happened with me running across people in person that I've met or known from online. It really helps connect people.
RT : Having a sort of insider's perspective in the sport, do you feel the emotions and the ups and downs of racing with the drivers and teams who put themselves to the test each weekend?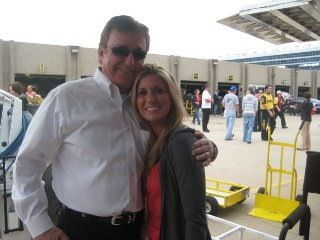 NJ : Yes. I've felt it all around. From NASCAR officials, crew members, to drivers, I don't think there is a single individual involved in racing that does not at some point experience hardship, emotions, etc. At the very least, you can feel how tired people are starting to feel half way into the race season. It's not an easy job. Always on the go with little time off, everyone is affected. And if it's a bad day on the track, yikes!
It's something you get used to, but it's hard to see friends struggle or it's a joy when they succeed. At the end of the day, you just want everyone to be safe and okay.
RT : What would have to be your "Welcome to racing" moment that'd you have to say has defined you amongst your peers in racing?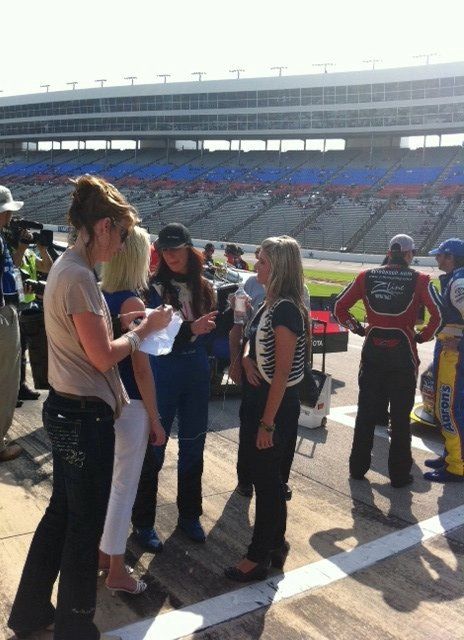 NJ : Hmm, well, I'm not sure. I guess I've always just gone with the flow of things that I've never really seen myself in this way. All of these things are a part of my daily life, so it simply feels like I'm living life and enjoying time with friends. It's not like I'm out there setting new track records or winning championships or anything.
Of course, I have moments where I go wow, do you realize how much things have changed since starting to even be interested in racing? I mean in 2005, I was so new at everything that I thought the souvenir trailers they have at the track were the haulers that the drivers and teams hung out in! Ha, I knew nothing!
But I did sneak into the grandstands to see the final laps at a race in Texas after a promotion, so that was my "Welcome to Racing, I am now hooked" moment. I think Harvick won that day....
RT : In addition to your love for racing, fitness, and sports, you've also competed in pageants and amassed over a decade in the media industry. How enriching have each of those passions been for your experiences with you personally and professionally?
NJ : Those experiences have most certainly been life defining. I have some friends that are very supportive of my pageant career, but all they know of pageants is what they've seen on that movie, Miss Congeniality. I competed in pageants both for Miss America and the Miss USA/Miss Universe Organizations. Words can't describe the amount of training and preparation that goes into these things.
With all that work though, my life has been impacted by learning life skills, how to be healthy and disciplined, and perseverant. The public speaking and interviewing skills you conquer alone would help you professionally.
Believe it or not, pageants are a lot like racing, especially in the competitive department. It has helped me bond with friends and support each other as we do what we love.
My TV/Film background has certainly added and been a big factor to what I do now. I've done everything from editing international commercials to being in The Killer Inside Me with Casey Affleck, Jessica Alba, Simon Baker (oh la la), and others. I was just an extra, but Casey was a nice guy. Love him in the Oceans movies! Oh and Ned Beatty was there - can you say Stroker Ace!
RT : Does part of you have the urge to clamber behind the wheel of a stock car and just drop the hammer at full speed?
NJ : I'm ashamed to admit that I can't drive a stick.....yes, I know. I have however been in the passenger seat around Daytona and Texas. 170 MPH around Daytona, before it was repaved, was a terrifying, bumpy, and amazing experience! But I think I'll leave that to the professionals.
RT : If you had to choose a few songs that define you as a person and the struggles/successes you've experienced, which ones would they be?
NJ : Wow. I'm so music driven it would be very difficult to narrow my favorite songs down. Here's a few I can think of currently:
"Nothing is Wasted" by Elevation Worship
"After the Storm" by Mumford & Sons
"Stand" by Rascal Flatts
"Trenches" by Pop Evil
"Bringing Down the Giant" by Saving Abel
"Winner" by Justin Timberlake/JamieFoxx
Oh, oh....can anyone ever go wrong with Baby Got Back? Didn't think so.
RT : What's the future looking like for you? Do you see yourself continuing on the path in the racing world or experiencing new ventures?
NJ : How's that saying go? Yesterday is history, and tomorrow is a mystery. A good friend has taught me to just take one day at a time, but I am excited about the future. I for sure see my path still continuing in the racing world while also experiencing new opportunities and passions.
RT : It's safe to say we need to get a selfie together, don't you think?
NJ : Absolutely! Do work son!
Special thanks to Natasha Johnson for allowing me to interview her! It's an honor and privilege to present this inspirational piece with #TPFNation. If you'd like to learn more about Natasha, "Follow" her on Twitter and "Visit" her official website today! All the photos are furnished by Natasha Johnson with TheHotLap.com pictures taken by Phil Cavali.