Allison Dunny's story in racing is one that's more than just a love for the cars and action. For her, it's being the storyteller through her love of the arts.
Racing is a truly unique sport in that it's more than just a phenomenon surrounding the participants who drive, tweak, or produce die-cast replicas of these high speed chariots on the NASCAR circuit. It's about the common folks who are out trying to do uncommon deeds, looking to write their racing story so that they're part of the illustrious ongoing saga that is stock car racing. They're the ones who want to be more than the hat ladden, t-shirt clad enthusiast in the grandstands who root on the racing heroes - they're folks that want to be the next Steve Waid, Krista Voda, Sam Bass, or Garry Hill - storytellers of this great sport through words or through the medium of art works.
For 20-year-old Allison Dunny of Sterling Heights, MI, she's a storyteller in her own right. While words aren't used to depict or recount a moment like a pit stop or that dramatic photograph of a driver in their element on race day, it's with her amazing art skills that she's able to convey those moments just as well as a journalist. Whether it's on a computer or with a colored pencil, she's able to bring the drama, excitement, and that racing experience with such precision, as if it's the actual moment "retold" in such proficient fashion. Dunny can remember a part of a race and works diligently away to draw or tinker with her subjects, almost in a relentless fashion like a fabricator at a race shop massaging down that high speed chariot machine.
Considering the fact that Dunny, who already enjoyed art before discovering her racing passion, combines both of her worlds together is just an epic blend where a lot of who she is in those works. It's always amazing to watch how an artist is able to depict a scene and its elements in such ways that when you look at them, it'll leave you wondering how they were able to do it and thinking, "I know I can do this." When you read this feature about Dunny, that's exactly how her passions started and it's a story that definitely would resonate volumes to any of us who want so badly to be a part of NASCAR racing.
She's had her successes, her struggles, and those dreams to be a part of the scene in North Carolina, where the heart and soul of stock car racing is based. At such a young age, she's definitely got her priorities straight and a vision to persevere, no matter what obstacles she encounters. Strong on her faith, inspired by her family and friends, particularly her mother Shelby and her younger sister Alyssa, it's safe to say that this will be a racing story that'll one day involve a lot of NASCAR and her genuineness all in one.
When you read her responses and get a feel of who Dunny is as a person and artist, you can really get the sense of how she operates and how the creative process for her progresses. Much like an artist in the studio (be it a musician or a painter), she'll spend much time perfecting it, always looking for that "sweet spot," if you will, of what she feels captures exactly what's on her mind and onto her works.
Friends and race fans, I'm pleased to present a very special interview with the lovely and beautiful Allison Dunny, whose love for racing is about as deep and rich as her heart and soul. We'll get to know all about her story in racing, what captivated her to be a part of the sport, and where she'd like to see herself in the world of NASCAR. So without further ado, let's get this started and ladies and genetleman, let's get started in "Getting to Know Allison Dunny, NASCAR Enthusiast and Artist," right here, right now on The Podium Finish!
Rob Tiongson : How long have you been into racing and what got you into the sport?
Allison Dunny : My love of NASCAR starts with a love for cars that I've had since I was a tiny Dunny. I honestly got full-force into racing after I learned more about the sport, and that was only in 2011. When I found out that there was more to NASCAR than just driving around in an oval and turning left, something clicked. Of course, since then, I knew I couldn't love something as much as I do without learning more. I have done what I could to acquire more and more knowledge about how this sport has gotten to where it has today.
RT : When you watch a race, what are the things that compels you and was there a particular driver/team that caught your eye?
AD : I am mostly drawn to the competition. Everything as far as equipment or the quality of personnel on the teams are so closely matched, that there are different factors that go into being the best. There is nothing guaranteeing any driver in Victory Lane later in the day, but there is definitely a way to get there, and that is the challenge. For everyone. Who is going to figure it out? Who is going to be there at the end? Watching the battles that take place throughout the race and watching teams work toward achieving the best strategy keeps me hooked. You need to be at the track to truly understand the atmosphere this is. The passion that you can see in the garage, it's incredible. Everyone wants to win.
I took the same philosophy in how I chose my driver. The person that coaxed me into giving the sport a chance is a Jeff Gordon fan. For a few races into 2011, I considered Jimmie Johnson, and I would constantly hear about the Gordon/Johnson alliance, so to speak, and how truly great Hendrick Motorsports is, which I had nothing against that. I have nothing but respect for teams that have proven they can win championships and who truly are great. I know wanted to stand behind someone capable of winning and winning it all. Of course, the 48 was the obvious choice with his five championships.
But there was another team that caught my eye. I saw a guy that mirrored my own competitive nature as he battled his way through the pack. I wanted this driver to win more than anyone else, I soon realized, and I knew he could. The same person that was booed and called a crybaby? Yeah, that one. I wasn't phased by that. That guy taking a bow after a hard-fought win? Him. I wanted to know what he was about. I saw a great driver. I saw someone who was going to make sure it could happen every weekend, no matter what his car was like. At the end of the day, I also saw a human. He wasn't always going to be within the popular opinion, then again in my mind, he didn't have to be. I'm not perfect, neither is anyone else. This guy didn't have to be a Hendrick driver anymore for me to know he could win it all, I knew he was going to bring everything he could to the track every weekend.
I wanted to stand behind Kyle Busch.
RT : You do a lot of different types of artwork, ranging from colored pencil to graphic designs on the Adobe programs. How much time and effort's put into it and when you work on a project, do you work on it and tinker away with it till you feel it's complete?
AD : My artwork comes from whatever I'm inspired by, and I treat drawing as primarily a hobby. I used to draw guys in bands, and create the occasional family gift, but I didn't have any confidence in it to push it further than that.
My interest in drawing anything NASCAR-related came from me wanting to create my own unique support for my driver. I saw artwork for sale, but I thought, "Hey, I could do that, and do it the way I wanted to."
My artwork has grown with my love for NASCAR. I have constantly challenged myself, trying to train my eye better to get what I want out of each drawing. I use a variety of mediums to learn my strengths and weaknesses as an overall artist. I try to cater my next piece to then get better. I can't do that unless I'm struggling and screwing up along the way, but then coming out in the end, making something totally work.
Art is a game for me. I am in constant competition with myself. I have learned to accept my style, and now I'm doing what I can to complement it.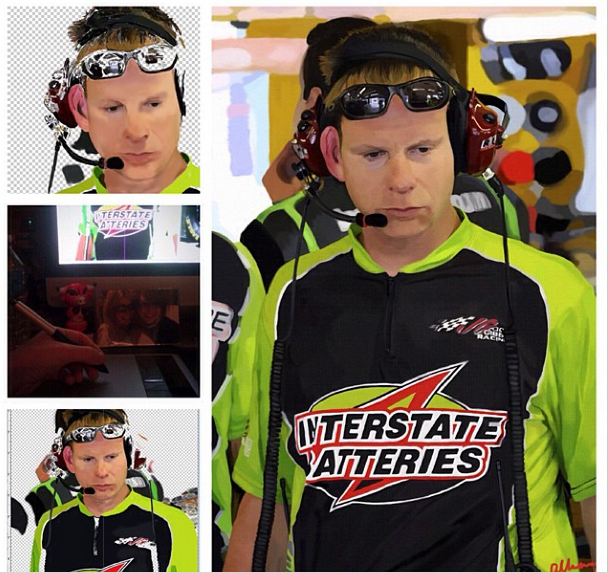 Meanwhile, time and effort is all relative [to the piece]. I am my biggest critic, and I tend to find everything wrong with the piece, while someone thinks it's great. Normally, I have to go through all the motions and post it online before I realize, "Dude, you forgot to blend that or add that or 'what is going on there?'" Then I go back and fix the original to at least satisfy my own criticism. Lately, I've been tracking the progress of each piece, so it has helped me take a step back and improve in areas where I would've normally overlooked. With that change, I have found myself to be happier with the result, also, so like I said, I am always learning.
RT : What was your first NASCAR artwork and what was the story behind it?
AD : My first NASCAR piece was 6x4 portrait of Kyle Busch at a truck race in Dollar General colors. At the time I was still drawing in graphite. It was before my first race at MIS when I decided to draw Kyle. I knew he was my driver at that point, and once I made that decision, I wasn't going to change it. I went through the motions of scanning the drawing...hating it....fixing it...scanning it again, then posting it everywhere I could think of. I ended up tagging Samantha Busch in the tweet of that drawing, and she responded to it. I was completely shocked by that, and distinctly thought, "This is definitely different than drawing rockstars."
RT : Is there a particular subject with your works that you'll put emphasis on, like the cars, drivers, or pit crews, or all?
AD : My comfort zone lies in drawing people, but in NASCAR, there is added difficulty in all aspects of even drawing a person. I have had to learn quickly how to tackle the 'everything else' involved, with the result either being good or poor.
Now that I've tried drivers, drivers in helmets, crew chiefs, a car, and even a pit stop - I can't limit myself to focusing on one subject matter. Like I said before, I am training my eye (I'm a free-handed artist), and I don't want to get too used to anything. I can say that I actually have had more fun focusing on the crew for my drawings, though, because I love the team aspect of this sport, and I want to capture a sort of appreciation to them.
RT : How much would it mean to if you got to have that breakthrough moment to be in this sport combining your passion for art and with racing?
AD : Of course having even the slightest opportunity of that happening would be the pinnacle of blessings. I am then quick to say that it would not be a time to become complacent or allow myself to die happy right then and there just because I had my dream come true. I have the confidence to say that I'd be ready to rise to that level, and would be more than grateful to share this sport with so many through my artwork and in my style. That would then put me in the position to do what I have always wanted to do, and that would be to use my artwork toward helping out foundations.
I already treat each piece as a, "Check this out, this is my family. These people are close to my heart, and that isn't going to change." Then to be able to reach more people than I could ever imagine with that same message, and to be able to go so much further than that - I would have to be in Heaven.
At the end of the day, I want people to know that NASCAR is worth all the effort.
First and foremost, as much as I want to marry this passion I have between NASCAR and my work, I am and will always be a race fan.
RT : What fields in racing would you be curious to try out?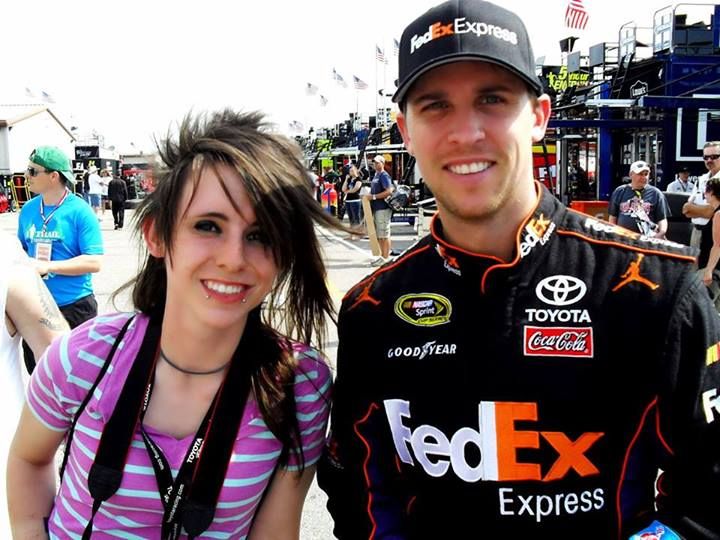 AD : I've explored a little into the kind of work available verses my skill set. I'm interested in the marketing/promotional aspect of racing, and have even gone as far as thinking about ways to make NASCAR appeal to a variety of people on the same level that it does for me. I am currently going for my Media & Communication Arts degree, but I also plan to explore the marketing classes my college offers to gain a better knowledge from a commercial stand point. I want to equip myself with the skills that can make me an asset to NASCAR, while also keeping my dream attainable, so to speak.
RT : What inspires you to keep your racing dreams alive, even when you hit that block or struggle?
AD : It starts with my faith in God to guide me and my faith in myself to keep fighting until I can't fight anymore for my dreams, but I owe more than a ton to everyone who supports me.
I don't want anyone who has ever taken their time to extend any sort of support to fall back as feeling unappreciated, but I want them to know that they are with me on this journey. They give me the motivation to get better, and to keep sharing the improvements with them. You see, I give artwork to people who stick with me on a genuine level. I don't sell my work. I don't want 'fans,' I want friends, and I want my friends to smile and know I'm more than appreciative they're with me.
Yeah, people make this worth it. They don't even have to like the piece or the driver, I accept all criticisms. Everyone has something to offer, and they keep me going. I don't take any of this for granted, I can tell you that much.
Author's Notes : Special thanks to Allison for taking the time for this interview piece and for also being equally amazing too, in general! All the photos of said artist and her works are courtesy of Allison Dunny. If you'd like to interact and know more about Allison, "Follow" her on Twitter right now! And also, I'd like to thank her for just being the best and for being right beside me in my dreams as well!