As one of the leading reporters of NASCAR on FOX's coverage, Kaitlyn Vincie has remained true to herself. From Langley Speedway to Daytona, she talks all about her career and more on TPF!
Realizing our dreams in life is always a fulfilling moment, as we're able to not only have that moment, but we're able to capture and appreciate those times. Those who often work hard usually merit results that reflect upon that effort. For 26-year-old Kaitlyn Vincie of FOX Sports 1, she has certainly worked diligently to be where she's at in her journalism and broadcasting career, particularly with NASCAR racing.
Beautiful, sweet, and personable, she's also a dedicated, passionate, and driven reporter whose efforts are much like that of a young racer who doesn't just want to be in the show, but to excel and succeed at the same time. Working her way up from Langley Speedway, overcoming struggles, and most of all, persevering through it all to be one of the most respected journalists in racing, Vincie puts in a more than earnest effort with her reports on and off-the-track.
I first met Vincie through a mutual friend, Paul Heath, when she was an up-and-coming journalist from Virginia. Producing and filming a video blog called Hot for NASCAR, she kept herself present with the stock car world, filing reports on YouTube as well as through Langley Speedway before making the move to Charlotte, N.C. Last year, we saw how that move paid off with her breakthrough moment with FOX Sports 1's precursor network, SPEED.
Vincie has become a regular fixture on NASCAR Race Hub as a reporter, assigned this past season to cover the news stories around Joe Gibbs Racing and other NASCAR news. Additionally, she worked on some pieces for FOX Sports 1's NASCAR Camping World Truck Series races, including a sit-down piece with rising talent German Quiroga. Much like that reporter who was looking to make a name for herself a few years ago, Vincie approaches each story with her colleagues more than just prepared – in a way, she's our voice and to some of us, our hope for being there in racing.
There's a sense of confidence, humility, and most of all, that same genuine girl that I first met in 2011. Despite her successes, triumphs, and breakthrough moments as a true motorsports journalist, she is humble and acknowledges her journey in the sport.
From the year that was in racing to her first thought when thinking about Boston, Vincie was up for the fun and challenge. As my first question goes in this piece, it just couldn't be a year in racing without interviewing her! We learn more about Vincie, not only as a reporter, but as a person, and that's what we set out to do here in this piece.
Without further ado, I'm pleased to present my latest interview with Kaitlyn Vincie of FOX Sports 1. Let's start "Getting Personal" and get to know more about her right here, right now on TPF!
Rob Tiongson : Alright Kaitlyn, I've decided that we can't have an official year on The Podium Finish without us doing an interview at least once a year! (laughter) Now that we're doing one up for 2013, does it kind of blow your mind how things have changed for us in the last three years?
Kaitlyn Vincie : Yea, I mean, it really is crazy when I think about it. It's a little bit surreal. Three years ago, I was still waitressing and working part-time at Langley Speedway. I've come a long way. The people at FOX have been really good to me and have given me really great opportunities. It is amazing in a way. This is what t I've wanted to do since I was a teenager. I didn't think it would happen so quickly but I'm glad that it did! (chuckles)
RT : And you know, with you being out in the field, I know that you saw some compelling stories in NASCAR. From the overall solid racing with the new Gen-6 car and then Jimmie Johnson getting his sixth NASCAR Sprint Cup title, Austin Dillon going winless but getting the Nationwide title this year, and then the emergence of some young NASCAR Truck racers like Jeb Burton, Bubba Wallace, and Chase Elliott winning some Truck races, which is really awesome - as an insider in the sport, how was it like for you to cover the major headlines for Fox Sports and also as a race fan?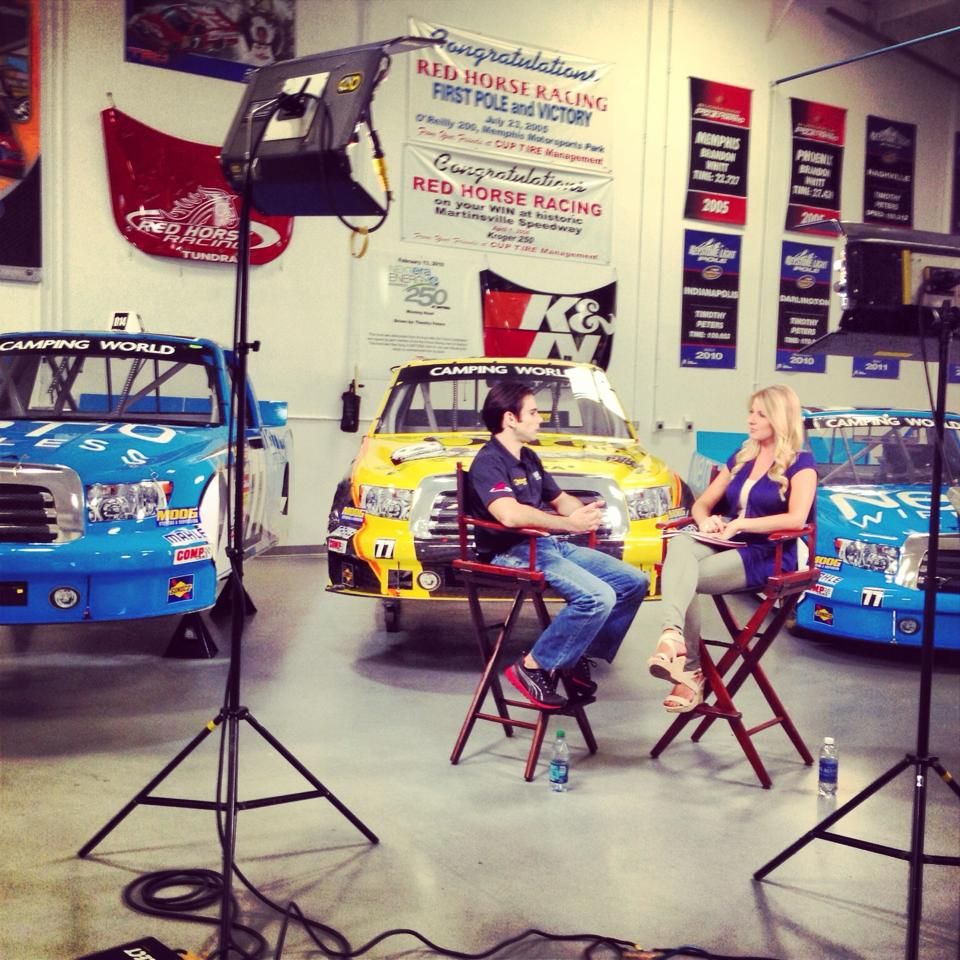 KV : Particularly with some of those Truck Series headlines, that was a series that I started working on when we transitioned into FOX Sports 1, and it was a lot of fun to cover those guys because they are the future of NASCAR. Being close in age to them helps me. We're all in our mid-20s, most of those people you listed.
As an interviewer, you have something in common in a way. You're both coming up the ranks in racing in different progressions. I definitely enjoyed covering the Truck Series guys. I started covering racing at Langley Speedway, so like with Bubba Wallace, I first met him there. It's so neat for us. I remember when I sat down with Bubba after his Martinsville win, we kind of laughed about that. "Oh gosh, remember at Langley?" It's funny. I enjoyed covering the Truck Series.
And of course, with the major headlines, with Jimmie Johnson, getting his sixth title. I interviewed him once this year, as well as several members of his team. He really is a class act. Lots of great storylines this past season and I'm sure there's going to be even more next year!
RT : Well you mentioned about the 48 team a little bit and obviously, you got to do some pieces also with the Joe Gibbs camp. Especially with this year's Chase, I felt like the FOX crew and NASCAR Race Hub really covered both camps' game plans in the playoffs really well. What was it like for you to be on the battlegrounds for Joe Gibbs Racing and get their mood of things?
KV : I cannot say enough good things about that organization as a whole. I was truly really blessed to be assigned to JGR this year. Great people all the way across the board, honestly. For me, that team, with the exception of what happened to Denny Hamlin this year, which is unfortunate as he's a really talented racer, Kyle Busch and Matt Kenseth were consistently winning and they were up in the points.
It was so cool to see the relationship build between Jason Ratcliff and Matt Kenseth. I think I sat down with Jason three times this past season at JGR. He's a good person and they're all good people. For a guy who hasn't been a crew chief in the Cup Series for that long and (for the No. 20 team) having that success in their first year paired with Matt Kenseth, they're a great driver-crew chief combo. Last year's only the beginning for them. There are probably a lot of great things in store for that 20 team.
In short, Joe Gibbs Racing - it was a really neat to be a part of that and it was so fun to watch, especially that 20 team, the run they had last year. It was really cool. They have good people, hard workers, and it was a pleasure to get to know them. Their competition director at JGR, Jimmy Makar, gosh, I'd call him every single week to get information for my reports. He was so patient, even if I had dumb questions. I enjoyed getting to know those people, even on the PR side. They've got some great people in that organization.
RT : Oh, absolutely! That whole group has been around for over 20 years. It's pretty amazing how they've been able to stay competitive and that they've been able to keep their teams, no matter who's driving their cars strong, so it's a testament to their folks for sure.
KV : Yes, I agree.
RT : Now here's something I've never asked you before, journalist to journalist. What would've been your "welcome to racing" moment for you, whether it was with FOX, or when you were with Langley Speedway, or for the "Hot for NASCAR" videos back in the day?
KV : OK, you know my "welcome to racing" moment was when I was an intern at WTKR News Channel 3 in Norfolk, Virginia, when I did a satellite interview with Jeff Burton. I will never forget that. That was the coolest moment to-date. They knew I was an intern and they weren't going to use my portion on the broadcast. They were just going to use my inserts. But they were just like, "Hey, can you have this NASCAR person who wants to be a NASCAR reporter do the interview with Jeff Burton?"
So they put me at the desk and hooked me up to do the interview with Jeff Burton at the Daytona 500. It was so cool! I watched it the other day, and I was like, "Oh my god, I was horrible!" (laughs) It's cool. He was a guest on Trackside this year and I told him about it. I was like, "You probably don't remember this because you do millions and millions of interviews but you were my first interview ever with a Cup driver. And you were so kind and gracious." I think he was a better driver to interview for the first time. It's one of those moments that'll always stick out to me.
RT : That's cool and kind of funny because we have some driver connections there. My first Cup driver interview was with Brian Vickers and now they're teammates at Michael Waltrip Racing, so it's a small world.
KV : Yea, that's very cool. You'll remember those things. For me, it was a good experience. Not all drivers are you able to say that about. Jeff Burton, "the Mayor," is a really good guy!
RT : Yea, he is and it's kind of sad to see him go, but at least he's going to be on our side of things soon!
KV : I know! I like it. Welcome to the club. (laughs) I think he'll be great!
RT : You've gone from covering the short tracks like Langley Speedway to stories at Charlotte Motor Speedway, Talladega, the major NASCAR tracks. Would you say that you're still the same person as you were back then or have you grown into someone where you go, "I used to be like that?"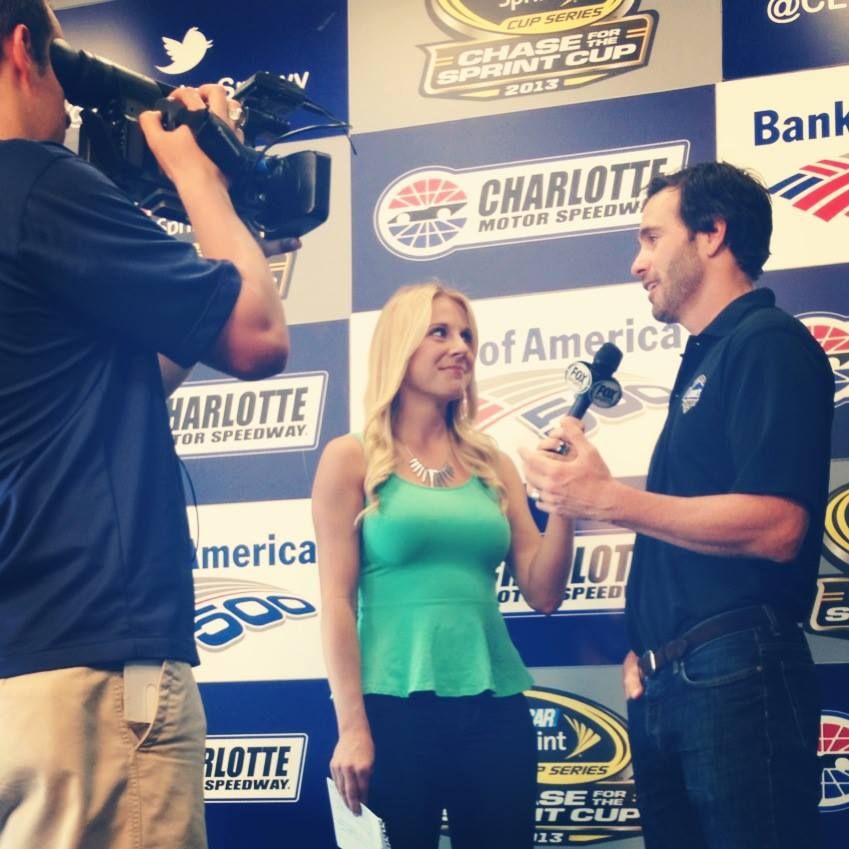 KV : With time, everybody grows, evolves, and learns new skills. My work, perseverance and work ethic are all the same as when I was at Langley as they are right now at FOX Sports. Obviously, the nature of it changes in a way because you're in a much bigger stage. So you have a lot more things to be thinking about and aware of, if that makes sense. Ultimately, I'm the same person as I was when I first started as an intern covering the USAR Cup Series. I always put 110 percent into my work and that's something that'll never change.
RT : I can definitely agree to that because you definitely know my story as well. As colleagues and just trying to chase after your dreams, you always try to remain true to yourself but you never say no to things that can make you a better person as well.
KV : Yea and you shouldn't let your guard down ever. You can't get comfortable because when you get comfortable, there's someone else waiting in the wings that'll come after your job. You need to always be on your toes.
RT : Oh absolutely, and Danielle Trotta mentioned about that as well. That's sage advice for all of us. We're going to do a little fun thing here that we haven't done in the past two years and by the way, you were my last interview when I was living in the Philippines, believe it or not, so –
KV : Yea, that's crazy!
RT : This is something we finally get to do on the phone – Free Association. Remember how that goes?
KV : I believe so but remind me.
RT : OK, so you just have to tell me the first thing that comes to mind with some random stuff.
KV : OK.
RT : Let's start with the first one. The Chase.
KV : (pauses) Oh gosh. Exciting. It was very exciting this year.
RT : That's a change in tone! Never thought I'd hear that! How about the storytelling process? When I say that, I mean, when you're coming up with stories with your team, what's the storytelling process like?
KV : Pretty easy, honestly, as there's so many stories every single week. Things are constantly changing in racing. There's never a shortage of storylines.
RT : Here's one that'll be a little fun. Strangest thing to happen to you in racing?
KV : (pauses) Strangest thing to happen to me in racing? I get some weird requests from the fans. I'll get bizarre, off the wall questions from fans – sometimes, you have to adjust to the situation, per se . (laughs)
RT : That's for sure because you no longer have that face to face medium that you used to have, but now you actually have to interact with them. I know one thing or two about interacting with NASCAR fans but they're great people though, for the most part!
KV : Oh, absolutely! They really are.
RT : But they come in extremes for sure! (laughs) A person that you most aspire to be like is…
KV : That's a tough question to begin with! I don't know if there's one person that I aspire to be like but there's some people who work for our company and reporters in the news and entertainment field that I try to model myself after. I don't know if it's any one person that I try to aspire to be like as I want to be my own person. I have different role models in broadcasting that I've watched and take certain notice of what they do.
RT : Now here's another one I'm going to bring up to you. How about the first thing that comes to mind when I say the word, "Boston?"
KV : (in a drawl) Boston Red Sox! (chuckles)
RT : Nice! I would've given you 300 points if you said "Rob Tiongson" but that's close enough!
KV : (much laughter) Well we knew that, obviously!
RT : I was trying to set you up on that, but that's OK. I'll take that too! (laughs) Go Sox on that! Now being on the road and virtually working all year long as you do, definitely requires dedication, focus, and passion. Would you say that the grind of a NASCAR season the type where, despite its constant pace, is always compelling and keeps you on your toes, so to speak?
KV : Hmm, definitely! It's definitely a long season. The travel is something I really enjoy and what I wanted to do is travel. You learn the most when you're at the races. That's where the teams and drivers, crew chiefs are, and the fans too. You can learn so much from being out there week in and week out. Certainly, the storylines are compelling. It keeps me on my toes, like you said, and it keeps you engaged. There's never a dull moment. That's one of the really cool things about racing.
RT : For sure! Also, just to get a little personal here – what songs have been constantly playing on your iPod these days and actually has you even singing, if you could at this moment?
KV : Hmm – I like that question! Anything from the show Nashville, I download. Have you ever seen that show?
RT : A little bit.
KV : I watch that show religiously and I download all the songs that they feature on iTunes. I love country music and I love singing so I have all of that on my iPod.
RT : Singing…hmm….
KV : I know! A lot of people don't know that I tried out for a singing show on TNT a couple of years ago. (chuckles)
RT : Want to give us a little sample?
KV : No! You know what, I want to sing with them, I want to do a duet with someone – and I'd like to do a little song with Kyle Petty one day. (laughs)
RT : Well actually, he can sing pretty good!
KV : Yea, he sings really well! He races and sings real well too.
RT : They showed a clip of him back in the 1990 Daytona 500 and I was like, "What?" "Huh?"
KV : Yea, he's awesome.
RT : So you telling me that you sing, though, doesn't surprise me but I was hoping to get a little duet here…
KV : I love singing! I do love to sing.
RT : We've got to find a karaoke place when I visit you.
KV : Yea I agree!
RT : Now you keep on telling me how awesome North Carolina is, and I definitely trust you on it. Word on the street is GoPro Motorplex in Mooresville is pretty open for some go kart racing – would you ever be game for a race against me, journalist to journalist?
KV : Yea, absolutely! You'll probably win. But it's definitely an incredible place. Justin Marks and Michael McDowell are the guys, I believe, who brought it together. It's just an awesome facility. It's state of the art and modeled after a track in Italy. They did a really nice job with it. It's hugely popular with drivers from Cup, Nationwide, and Trucks and crew chiefs go there. It's a pretty cool place. We've done two different stories for FOX there. Yea, I'll take you up on that offer but I'm pretty sure you will be taking the checkers before me. (laughs)
RT : Oh, we'll see about that! I've not karted in 14 years or so. Last time I did, my sister put me in the wall!
KV : Whoa, that's harsh from a family member.
RT : Well, that's how it goes in this household as the little brother sometimes. (laughter) So as we wrap things up here for the fans, is there anything else that you'd like to say to the race fans who watch your coverage on FOX and read our stuff on TPF?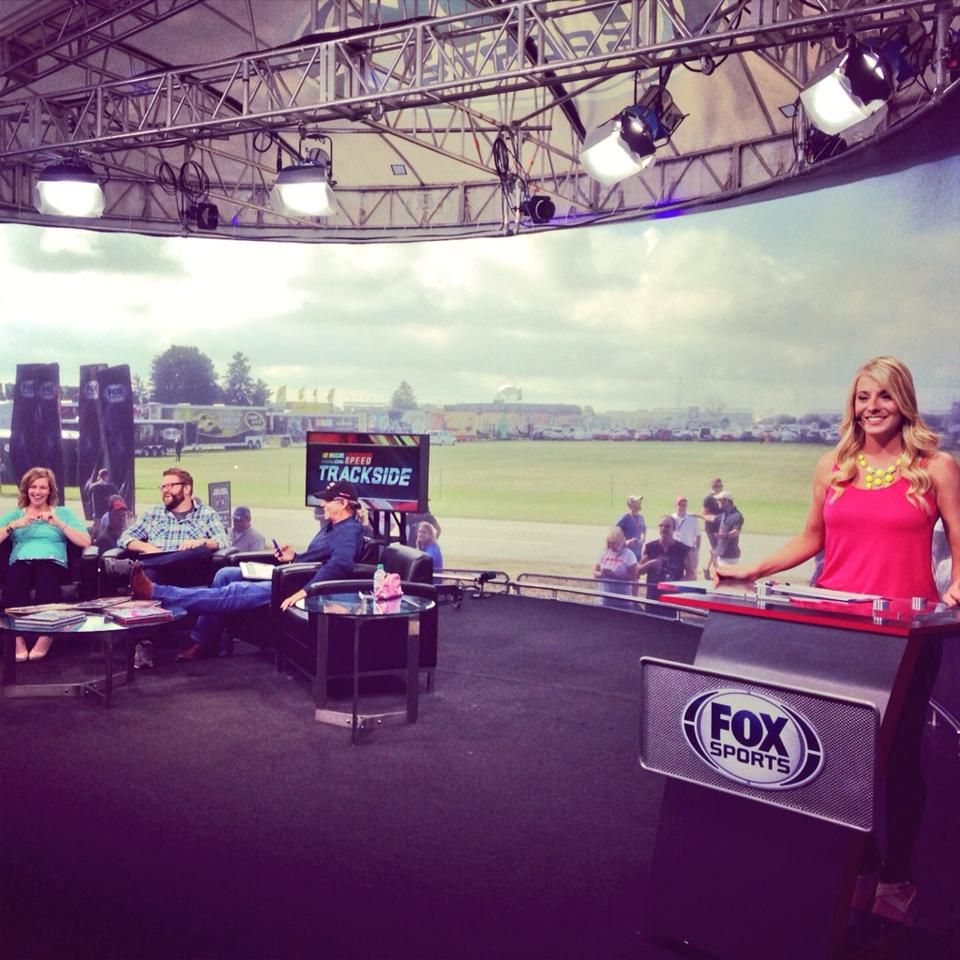 KV : Thank you and I'm grateful for all our fans that continue to watch our broadcasts and show up to the racetrack. They're a huge part of the sport and we're very thankful for all of them!
RT : Well, we really love having you on here on TPF. We're like the Jimmy Fallon and Justin Timberlake combination for The Podium Finish!
KV : (laughs) That's right!
RT : Except we gotta sing next time!
KV : Thanks so much for having me, Rob!
RT : Anytime!
Author's Notes : I'd like to personally thank Kaitlyn - I can't say enough about how amazing she's been to me, supporting me personally and with TPF. I'm always happy to see how successful she's been and certainly can't wait to finally meet her to talk racing at last in person!
If you'd like to learn more about Kaitlyn, "Follow" her on Twitter and "Like" her Facebook fan page now!