Racing is more than just the cars, drivers, teams, press, and officials. It's about folks like Emily Kozel of JTG Daugherty Racing, working hard while chasing the scenes at a NASCAR track near you!
If you've ever had the opportunity to walk inside the garage area of a NASCAR track, you'd see the cars, the stars, the teams, and press surrounding the scene. You'll experience the frantic moments of a race weekend all right there, as mechanics work on the car set-up, drivers hustling to their haulers while signing autographs, and not too far from that star racer is most likely their Public Relations representative, who work as part of their team's essential mode of communications between sponsors and fans.
Whether you're publishing press releases or working in the marketing/social media realms for a driver and team, it's a rewarding, hands-on, and involved job that requires as much dedication and precision as a skilled wheelman racing on the asphalt arena. For Emily Kozel, the 21-year-old Annapolis, MD native, who's also taking up collegiate studies at UNC-Charlotte, is constantly "chasing the scenes," specializing in the social media content and live race updates for JTG Daugherty Racing. Kozel can be found right in the center of the action on race day as one of the key principles who interact with the race fans each weekend.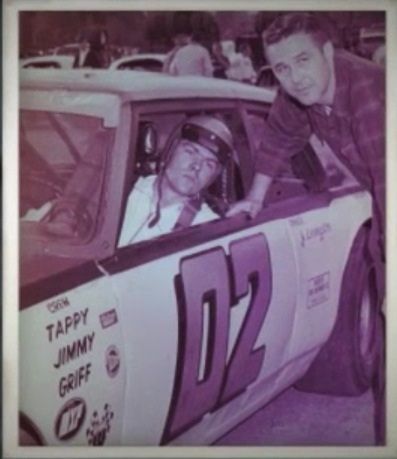 Her passion for racing is one that extends to three generations, which starts with her grandfather, who was an owner for the Late Model Sportsman and Grand National divisions back in the 1960's and 70's. As a lot of us can attest to with this sport, once you're bitten by the racing bug, there's no turning back, and we'll often try to carry that love for it much like stories of yesteryear are shared amongst generations.
That enthusiasm would carry on with Kozel's mother, who also works in NASCAR racing for Drive4COPD, and each day that she's on the track, she gives it 110 percent, while remaining true to herself as she works diligently in her role.
To say the least, it's a sport quite loved by this family and Kozel's story is one that's continually being written with new experiences, friendships, connections, and memories that will accumulate as much as the hope with her team in 2014. Clearly, her enthusiasm is one that's met with honor in terms of her family's history and her respect with the sport, as well as embracing it with her genuine approach that's fun loving, caring, and overall, just an awesome personality.
Congenial, sweet, humble, and very personable, I got to sit down and talk with Kozel about her racing story in terms of her role with JTG Daugherty Racing, how she got into racing, and the overall feel of the No. 47 team as they prepare for the start of the 2014 NASCAR Sprint Cup season.
If you have or haven't watched the Daytona 500, after you've read this piece, you'll feel the thunder of the engines, the roar of the crowd, and you'll know what it's like to be in Kozel's shoes as she's doing more than just tweeting race updates in less than 140 characters.
Although it's a long season ahead, if there's one thing that those of us in racing look forward to, it's the upcoming 38 weeks ahead where we'll be firing up our tablets, keyboards, and smart phones, typing up pieces, taking pictures, and most of all, interacting with the race fans from all parts of the world. Kozel and the diligent personnel at JTG Daugherty Racing are just as ready to make it a productive year, focused and prepared whether it's a race at Daytona or Loudon, NH.
Are you ready to know what it's like to be in the shoes of Emily Kozel? Well, ladies and gentlemen, it's about that time. Grab a seat, relax, and enjoy it all as we go "Chasing the Scenes with Emily Kozel, Social Media Coordinator at JTG Daugherty Racing!
Rob Tiongson : Emily, the time for the racing season is almost here and I'm sure you've got lots happening with the JTG Daugherty team undergoing numerous changes in a new driver and new "old" make. What's the mood like with the team as we prepare for Daytona Speedweeks 2014?
Emily Kozel : The mood in the JTG Daugherty Racing shop is motivated. This team has worked so hard during the off-season and we are all very excited to watch it pay off. I strongly believe that the alliance with Richard Childress Racing, the switch to Cheverolet as our manufacturer, Earnhardt-Childress Racing as our engine supplier, and having AJ Allmendinger on board are all huge steps in the right direction for us. Personally, I have seen the time and effort that everyone has put into making the 2014 NASCAR season a huge success and I believe that is what this team deserves. I couldn't be more excited to get this season started and to be on-board with the No. 47 team for another season.
RT : How'd you discover your passion for racing and would you say it was a "love at first sight" situation with NASCAR racing in particular?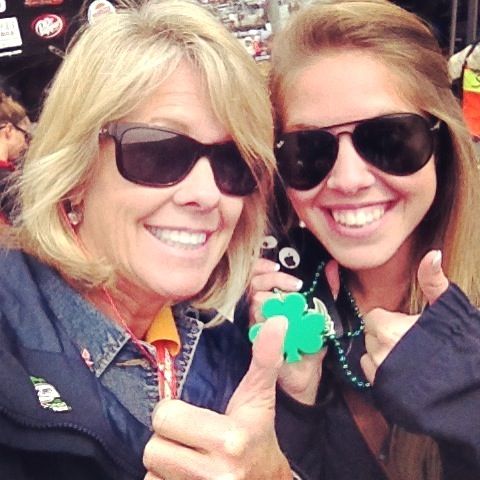 EK : My roots in racing go way back; my Grandfather was an owner in the Late Model Sportsman and Grand National Series in the 60's and 70's. He raised my Mom with his passion for racing and she passed it on to me. My Mom has been working in NASCAR full-time for many years and I've known since she started that it was what I wanted to do as well. Growing up with it being such a big part of my life, you could say it was "love at first sight." But someone once referred to be as "having racing in my blood" and sometimes, that's exactly what it feels like.
RT : I've asked this before with some folks in the sport but with this sport being so unique in terms of how there's not much of a reprieve, did you get a chance to get a breather before this year started?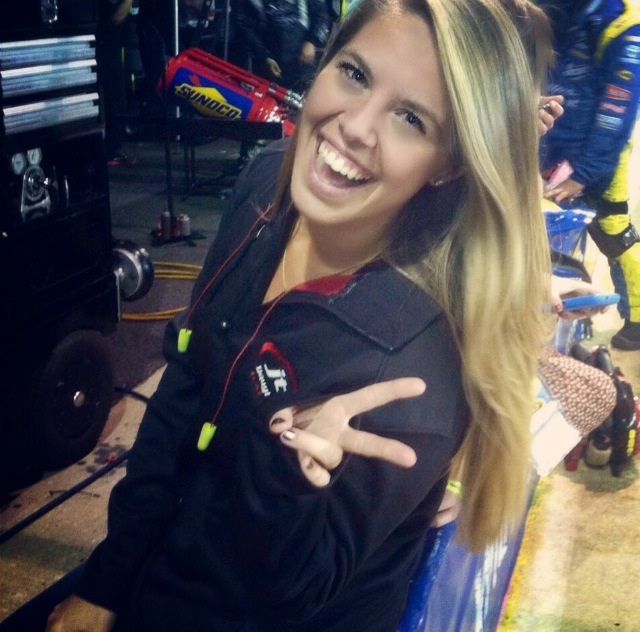 EK : I luckily did! My 21st birthday was in December and I followed that celebration with a week back home in Maryland for Christmas before coming back to Charlotte to dive-in to the final preparations for 2014. The cars may not be on the track, but the "off-season" is no slower than the rest of the year in NASCAR.
I was very lucky to get some time at home with my family, but I can't believe how quickly Daytona is coming. I wouldn't trade being a part of the hecticness for anything, though!
RT : Working with JTG Daugherty Racing, how neat is it to be part of a team that made the move from Nationwide to Sprint Cup over a decade?
EK : I honestly didn't realize the extensive history JTG Daugherty has in NASCAR until I started working here, and I am still learning new things about it! But what it all comes down to is the passionate people who have created that history. I couldn't be more proud to work for Brad Daugherty and Tad & Jodi Geschickter; they are some of the hardest working, highly respected, and selfless people in NASCAR and that I have ever met. They share the same passion I have for this sport, but they have the wisdom and experience that I can only dream of having one day. So to learn from them and everyone involved in this race team is more than neat, it's truly an honor.
RT : Let's talk a bit about your work with the JTG Daugherty team. What are some of your day-to-day functions with your role and how close to the action are you with the team?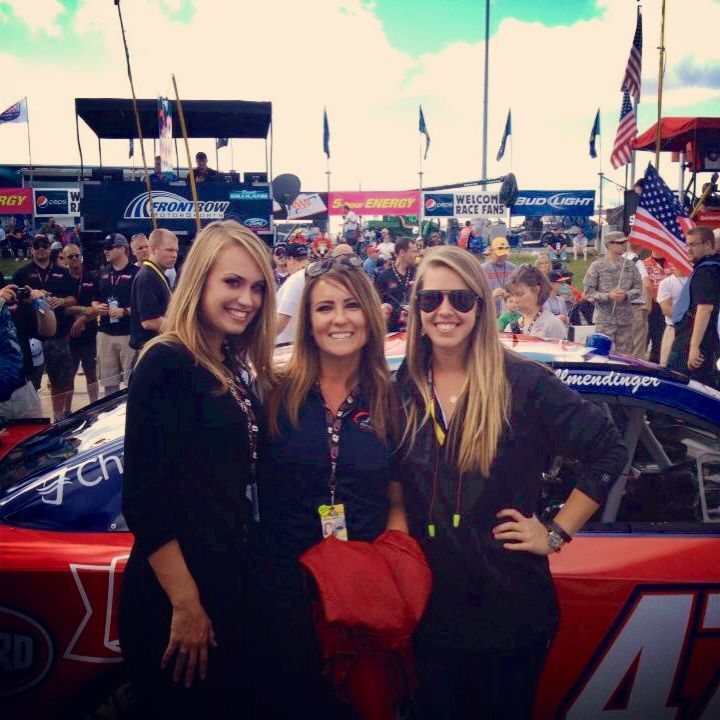 EK : My primary focus is the team's social media. I work with the marketing and public relations departments to create the content for our social media and post live updates during races. I have been very blessed to have many opportunities to travel to races with the No. 47 team and really enjoy being able to coordinate our social media efforts from the center of the action.
But even on the weekends I am not at the track, there are opportunities for me to be a part of it all. I also spend as much time as I can working with the team's public relations director, Jennifer Chapple, to experience more of the PR side, since that is my ultimate career goal. But in general, my day-to-day functions typically are never the same, there are always new opportunities, which is easily the reason I love my job so much.
RT : Off the track, what are some of things that you do to unwind and relax and decompress from the grind of racing?
EK : Well, being a full-time student as well doesn't give me much downtime unfortunately! But when I do have a bit, I try to spend as much time as I can with my family. Most of them are back in Maryland, so that does require some more traveling, but I am very close to all of them and want to take advantage of every moment I can get.
RT : Having a social media presence for the team and on your personal account, how rewarding has it been for you to interact with pretty much anyone with a passion for racing?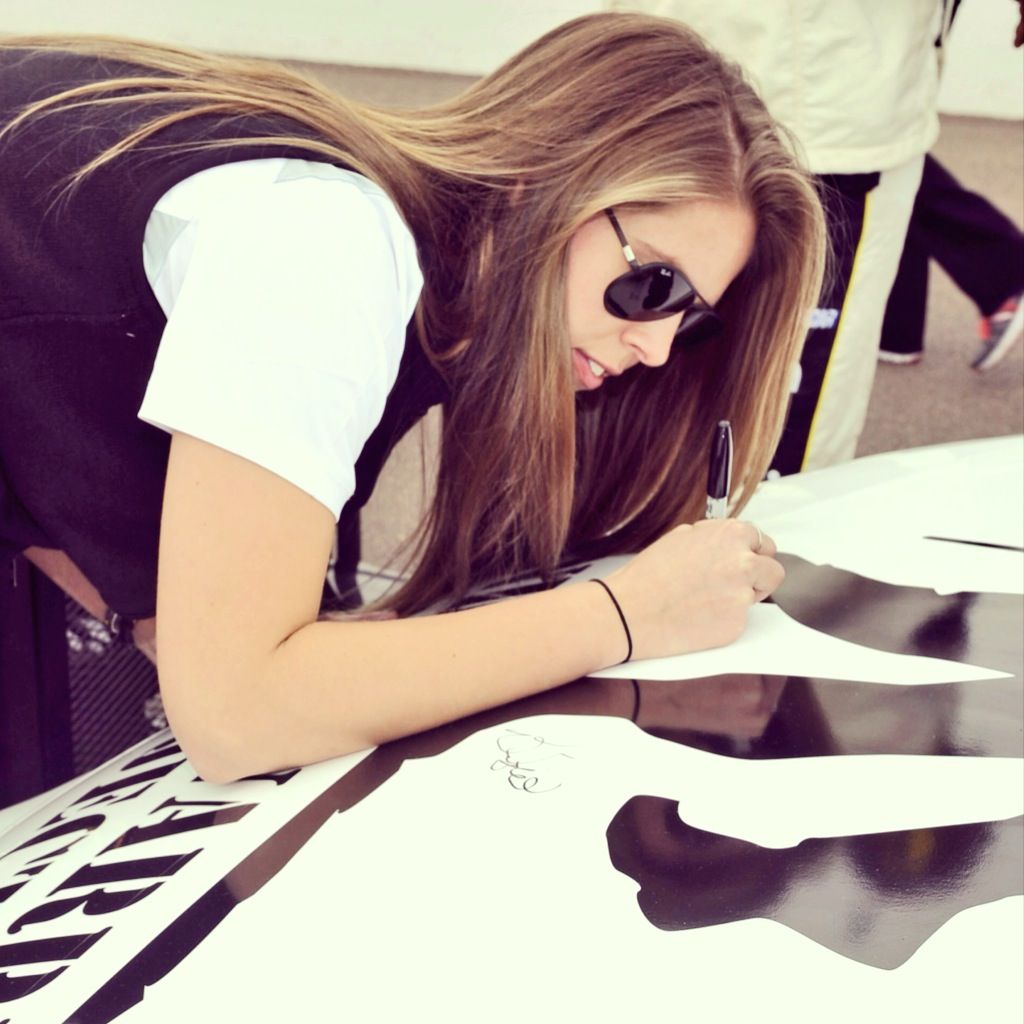 EK : My job demonstrates the fact that NASCAR is more than a sport, it's a community. Sharing the same passion for it that the fans do makes the social media aspect of my job feel more like a conversation with a few of my closest friends. Being at the track and immersed in the sport professionally is a dream come true, but to have the opportunity to bring that perspective of NASCAR to the fans directly through my job is frankly a blast! Both JTG Daugherty Racing & AJ Allmendinger have fans that are so passionate and active, they feel like a part of the team. I really have loved getting to know a few of them and being able to share my love for this team with them as well.
RT : What song would you say best describes the journey you've had in racing and with your own life that defines who you are personally?
EK : Last year at the Daytona 500, I met a man named Eric Lee Beddingfield (some of you may recognize the name from his National Anthem performance at Pocono Raceway this past year). A rising country musician, Eric is a friend of my Mom's whom she met years before while he was performing at a NASCAR event. He shared with me the work he has done to get into country music, just as I shared with him my efforts to establish a career in NASCAR. At the end of our conversation, he gave me the recording of a song of his called, "I Just Wanna Play."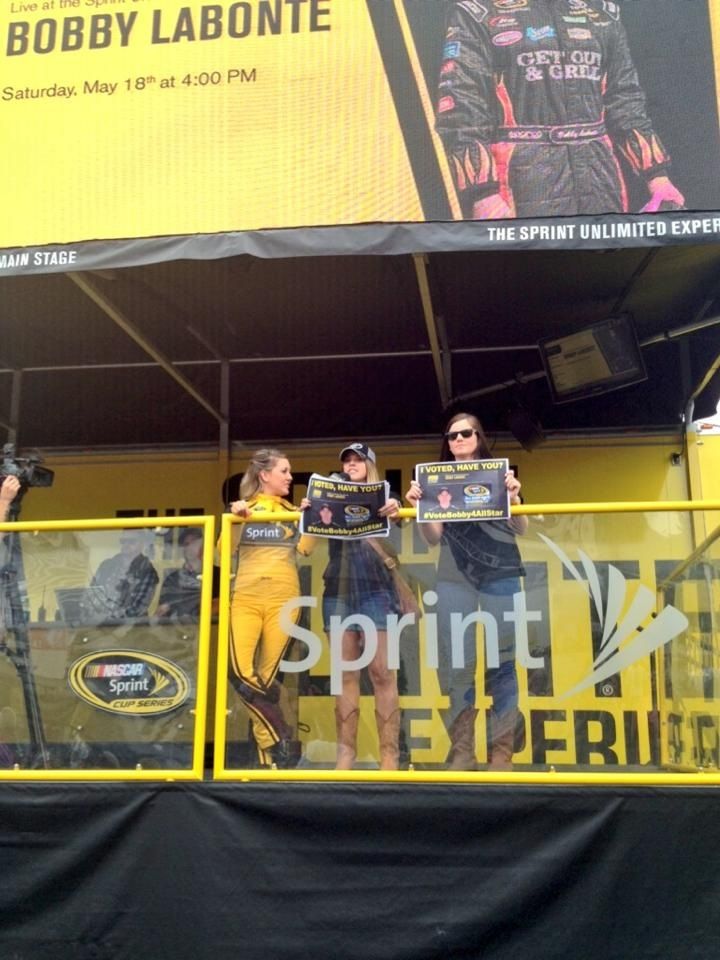 The song resonated with me instantly because it was about loving something and wanting to do it, no matter what it took. It's funny that I chose this song, because the lyrics themselves are just about Eric's love for music and have little to do with my passions, but the meaning is the exact same. Eric Lee just wants to play his music and I just want to be at the track. To have a job that feels like an escape from the parts of life that aren't as enjoyable is a huge blessing. But work or no work, I love this sport and everything it represents, I just want to be a part of it.
Author's Notes : I'd personally like to thank Emily for letting me interview her and for the wonderful pictures that are accompanying the piece! I also want to thank her for all of her support with all that I do as well - you are the best! If you'd like to learn more about Emily, "Follow" her on Twitter and if you'd like to keep track of JTG Daugherty Racing, "Like" their Facebook page, "Follow" them on Twitter, and "Visit" their website!