Carl Edwards might make the girls swoon over his 99-pack, but at the end of the day, let's face it: he's a damn good NASCAR Sprint Cup racer.
It's hard to believe that nearly 10 years ago, Carl Edwards was a Roush-Fenway Racing talent in the NASCAR Truck series who was seen as an investment for the team. After all, he was 24 years old, one of the fresh faced drivers on the stock car trail and someone that wasn't exactly going to supersede any of the Cup incumbents in 2004 - that until the summer Michigan race happened and on August 22nd at Michigan International Speedway, the pride of Columbia, MO strapped behind the wheel of his current No. 99 Ford ride, something he's not relinquished since Franz Ferdinand was a hit indie rock band.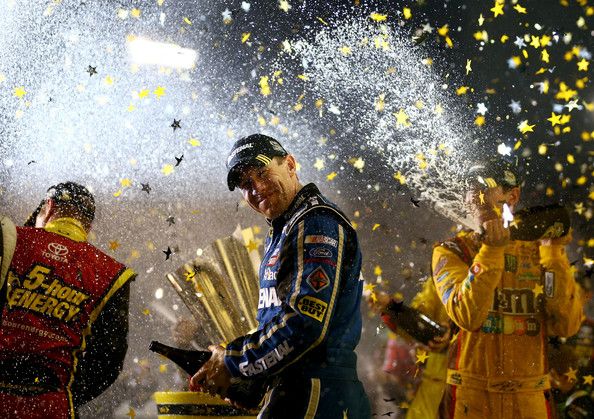 Time sure flies by and since Edwards' promotion to Sprint Cup racing, he's compiled 21 wins, 101 top-fives, and 173 top-10's in his 337 starts. He about averages an eighth-place points finish, only missing the Chase twice since his first full season in 2005 ('06 and '12). An aggressive but finesse based racer who doesn't abuse his equipment on most occasions, outside of Matt Kenseth, he's really been Roush-Fenway's best shot at another Cup championship since Kurt Busch's title in 2004.
Per Ashley Hobbs, our statistician on TPF, calculated that Edwards has an average finishing position of 13.31, which is comparable to that of Jeff Gordon and Matt Kenseth, some of Cup's finest and consistent talents. Over the past decade, that's quite impressive and it goes to show that Edwards is one of the finest competitors on the Cup circuit. Additionally, it just means that he's due for a good season, and therefore, we see the driver of the No. 99 Fastenal/Aflac Ford Fusion taking a fifth-place points finish in 2014.
As if that driving talent wasn't enough, there's also the great leadership atop the pit box in the form of Jimmy Fennig, who's worked with greats like Bobby Allison, Mark Martin, and Matt Kenseth. If the NBA has Greg Popovich, NASCAR has Jimmy Fennig, who knows how to win and get those championships in almost the quietest fashion. Perhaps that's what makes this bunch so exciting to watch, as they're so quiet but when the results are printed, oftentimes, you'll find the No. 99 Ford near the front of the finishing order.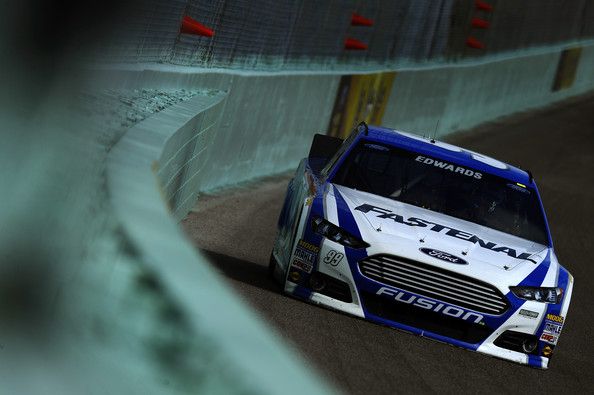 Last year wasn't half bad with nine top-fives and 16 top-10's to accompany those two wins. However, once the Chase started, that's when the wheels fell apart off the Edwards Express, especially at Dover with a 35th-place effort and at Texas with that 37th-place engine related DNF. Inconsistency somewhat plagued this effort, but all things considered, for Edwards and Fennig, their first year wasn't all that bad. Once a racer finds themselves in Cup, the competition is much tighter and closer and thus, the margin for error doesn't allow a team to get away with those poor finishes.
This year will go a bit smoother and it's probably not crazy to expect two or three wins out of "Cousin Carl," particularly at a track like Richmond or Bristol as well as a the speedways of Texas or Michigan. Edwards is much like his former teammate Mark Martin, who's a fitness guru, a machine on the track, and an all-around nice guy to his peers and fans. Very seldom does the 33-year-old lose his temper, as he often approaches his racing much like six-time Cup champ Jimmie Johnson - with class and humility.
In summary, this will be a good year that nearly has the fixings and sides like a good plate of steak with fries. It won't exactly be well done or rare - instead, it'll be just right. Just hopefully, we've not made our fans or Edwards too hungry from reading this piece - cause said writer might be hungry now.
Author's Notes and Fans to Follow : Ashley Hobbs, you are a lifesaver and I can't wait for you to have your first solo piece here! Nevertheless, thank you for your help with this piece and our Chase series thus far. Race fans, if you're looking to follow some great Carl Edwards fans, "Follow" TPF friends like Stephen Taylor and Kerstin Smutny right now!