Kyle Busch can be described as "Rowdy" or "Wild Thing" - maybe one day, he'll be called NASCAR Sprint Cup Champion.
When it comes to a driver in the NASCAR Sprint Cup Series who's raw and super talented, it's the driver of the No. 18 M&M's Toyota Camry from Joe Gibbs Racing - Kyle Busch. At age 28, he's arguably approaching the prime of his career, as he heads into this year coming off a career season in 2013 with four wins, three poles, 16 top-five's, and 22 top-10's to place fourth overall in the points race.
Often wearing his heart on his sleeves and sometimes misunderstood for that passion, he's also an exciting racer at any given venue on the Cup tour, whether it's the turns of Watkins Glen International or an intermediate track like Texas Motor Speedway. This superstar racer excels at any track and is a capable of winning multiple championships as long as he remains competitive and loves what he does, two qualities that are definitely apparent with "Rowdy."
Leading the No. 18 team is crew chief Dave Rogers, who's been able to get his driver and peers focused on the mission at hand on every track. Even if the odds are against them at a track like Kansas Speedway, his approach is to just go out there, keep a positive attitude, and more over, to simply win. Additionally, Busch has excellent teammates at Joe Gibbs Racing in the form of Denny Hamlin and Matt Kenseth, who are arguably similar in their approaches with the cars and race strategies.
In some ways, Busch is like Rusty Wallace, a driver who has great pride in his crew and skills, often enjoying the victories and is not shy to reveal that disappointment when it's a struggle at the track. Often times, you'll find that No. 18 Toyota at the head of the pack, sometimes with some tire marks and a mashed up fender before winding up in Victory Lane. Needless to say, he's a lover of racing and will often participate in Nationwide and Camping World Truck Series races just for the thrills of being a winner.
Gibbs' racers are not only similar in styles, but with their stats, as Busch has a 14.98 average finishing position over the past decade, comparable to Hamlin's 14.70 and Kenseth's 13.39. Aggressive, tenacious, but smart, Busch certainly knows the difference between being brave and bold. Perhaps his biggest strength is that he races with a chip on his shoulder in that he goes out there, races his heart out, and wants to show his team that nobody else can do the job better in that No. 18 car than well, himself.
A title has been on the cusps for Busch and his JGR bunch since he joined their organization in 2008 and it wouldn't be surprising if that moment finally happened here in 2014. Whether you like him or not, he's certainly a driver who gives it 100 percent, puts on a great show, understands what he has to do each race, and definitely doesn't stroke for a safe finish.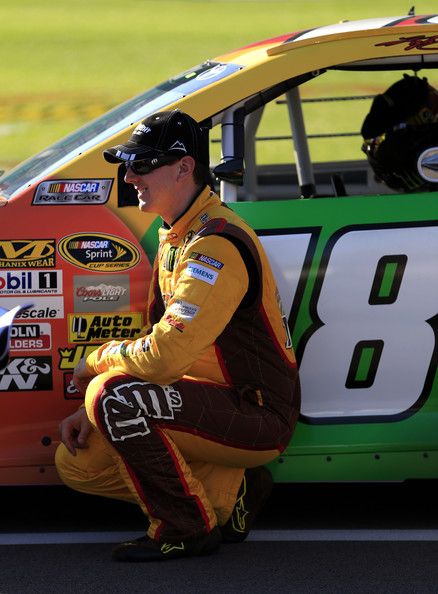 Come to think of it, it's perfect that he embraces the "Rowdy Burns" persona from Days of Thunder, as he is one tough customer who just races to win.
While he's projected to fall one position short, we made that same prediction for a man named Jimmie Johnson last year and we all know how that turned out.
Author's Notes and Fans to Follow: Ashley Hobbs has been working her all off with our stats, which we can't thank her enough for with this piece and our Chase series.
For Kyle Busch's fans to follow on Twitter, "Follow" our buddies Beth Chryst and Tracey Ziolkowski, who are absolute "Rowdy" enthusiasts!