When the press made their annual NASCAR Sprint Cup predictions, including yours truly, chances are, Casey Mears and his No. 13 GEICO Germain Racing Chevy SS team were not likely on most lists to make the Chase. After all, his team had finished 31st, 29th, and 24th in the past three seasons, which aren't exactly going to grab anyone's attention in a sport with the likes of Hendrick, Gibbs, Roush-Fenway, and Childress. Then again, after two solid races with a 10th at the Daytona 500 and a 14th at Phoenix last Sunday, perhaps it's turning some heads for this exciting bunch as they prepare for the next race at Las Vegas Motor Speedway.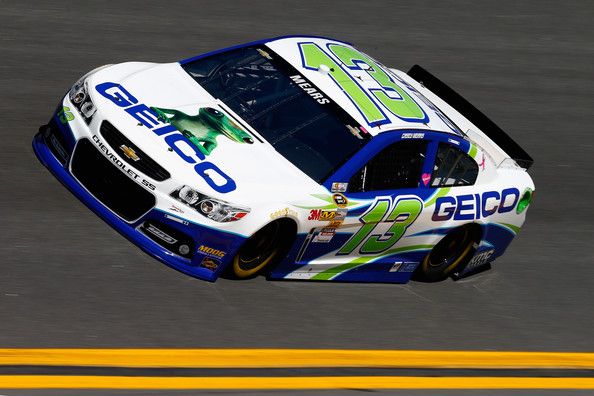 Sampling with the GEICO team back in 2010, they'd go for their full season efforts in '11 as a Toyota group, struggling with a pair of 17th place finishes at Richmond and Talladega serving as their high water mark. For the next two years, they switched to Ford sheet metal and motors, garnering one top-10 finish in 72 races. Results improved but this hardy group was looking for that next step to go from a team that just made the races to a team contending for top-10's and wins.
Enter the move to Chevrolet sheet metal, ECR motors, and a connection with Richard Childress Racing that may have given a tremendous boost to this organization which has seen its successful moments in the Camping World Truck Series with a pair of titles with Todd Bodine in 2006 and '10. Think back to how Furniture Row Racing aligned itself with ECR's powerplant and with a driver like Kurt Busch last year, that independent effort was able to turn some heads as they made a Chase appearance and placed in the top-10 in points.
Make no mistake, this group isn't just satisfied with just being there in the most elite stock car tracks on any given race day. Maybe a few years ago, it was an accomplishment for them to make the field on speed, to gain valuable track time, and to get Casey Mears some seat time in his fledgling career. Nowadays, this collective has the makings to be a steady, solid group that could play the role of spoiler for wins and potentially a bid to make the Chase in 2014.
And why not? With NASCAR changing the format and essentially making it a lock for teams to earn a playoff bid by virtue of a victory and maintaining a top-30 points position, this certainly puts a team like Mears, crew chief Robert "Bootie" Barker, and the Germain Racing brigade in a tremendous spot for a postseason appearance.
Of course, it's just two races into the 2014 season and likely the cream will rise to the top. Part of their successful start can be attributed to the struggles of teams like Kurt Busch and his new No. 41 Haas Racing Chevy group, as well as the slow starts of Kasey Kahne, Tony Stewart, and Clint Bowyer, who are usual Chase contenders. Then again, if those teams are struggling, Mears and his team have to be onto something solid to be where they are right now heading into the Cup series' annual date at "The Sin City."
After all, Mears has flirted with a Chase bid before, placing 14th and 15th in points back in 2006 and '07 with the Chip Ganassi and Hendrick Motorsports efforts. The potential is there for the pride of Bakersfield, CA to impress and be that driver who flies under the radar until attention is given around this summer, when he's likely in that top-15 points position flirting for wins against today's best talents.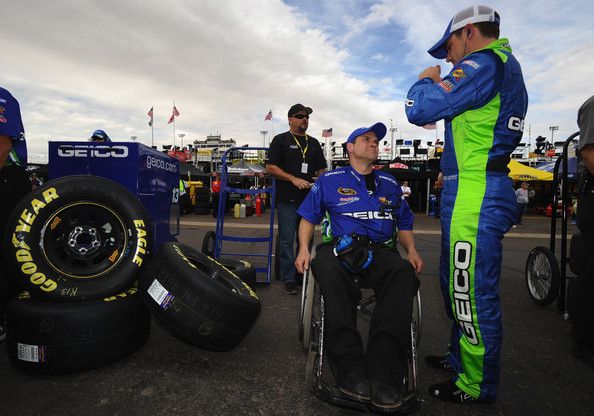 Accompanying Mears is his crafty crew chief "Bootie" Barker, one of the more adept and genius individuals in his field. A former Hendrick Motorsports prospect, Barker can be partly credited for the No. 13 team's turnaround in the past several years from a start-up to a respectable team in the Cup garage. His expertise with the cars' mechanics and overall understanding of the nuances of these steel chariots is second to none and with a driver like Mears and the new resources at the shop, it's almost got to be like living a dream compared to where they were back in '11.
In today's NASCAR racing, to see a team like Germain Racing succeed is like that mom and pop store across the street profiting and having a great run on the same street where the nationwide conglomerates preside. Their strong start gives hope to a team like JTG Daugherty Racing that they could perhaps get into a hot streak with the right breaks and strategies.
Perhaps it lights a spark with a team like Front Row Motorsports who's had their highlights in the past year as an independent multi-car effort. Stock car racing still reward the best in the sport when it comes to those with the most resources, talents, and guile. That said, Germain Racing is making an early statement this year that they may be here to stay and if Mears and Barker have any say at all, it's that these underdogs aren't going to be taken lightly at all.