I run down the best moments of Wimbledon 2012
We are just days removed from arguably one of the greatest Wimbledon championships of all time. But what made this Wimbledon so great? Here are some of the moments that made Wimbledon 2012.
Rosol beating Nadal
This was probabaly the greatest upset of Wimbledon 2012. Nadal was ranked #2 in the world heading into the championships, and was one of the favourites to win the whole tournament. On June 27, everyone knew Lukas Rosol as Rafeal Nadal's second-round opponent,but a day later he was a star. It was all thanks to his epic upset of defeating the two-time champion in a five-set thriller. Rosol was playing the match of his life, hitting Nadal off the court, which was and is nearly impossible to do. After a poor 4th set, the Czech rallied back to beat the 2 time champion and book his place in the next round. The upset was made even bigger as Rosol was knocked out in the next round.
Serena wins her first slam in 2 years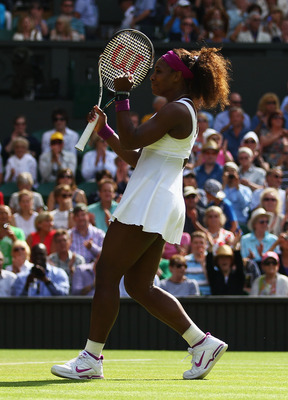 Serena Williams may be back. She had won 13 single Grand slams heading into the tournament, but she hadn't won a title in 2 years. Serena Williams came into Wimbledon very nervous. She did not want a repeat of what happened in Paris, losing in the first round. She was placed on court No. 2, an outer court, for her first match against Barboa Zahlavova Strycova and nearly came to tears after the 6-2, 6-4 victory. Serena then beat Melinda Czink in straight sets, before a 3rd round match with Jie Zheng. Serena fought threw the scare to book a 4th round match with Yaroslava Shvedova. Serena beat the wild card 6-1,2-6,7-5 to book a quarter final match with defending champion Petra Kvitova. Serena beat the defending champion in straight sets, which confirmed a match with Victoria Azarenka. Another straight set win confirmed the Americans place in the final, where she would face Agnieszka Radwanska. Serena defeated the Pole, 6-1,5-7,6-2 to win her 5th Wimbledon title. What made her Wimbledon journey even more incredible is that she went on to wins the Ladies doubles title later on that evening with her sister Venus. Serena may be back.
Maria Sharapova's early exit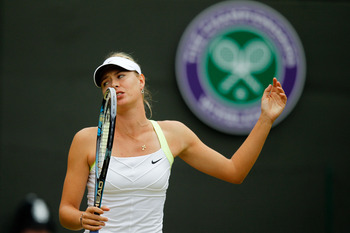 The number 1 ranked player heading into the tournament was Maria Sharapova.The newly crowned French Open champ didn't put up much of a fight against Sabine Lisicki, a player she has beaten in previous Slams. During "Manic Monday," where every singles player competes in their fourth-round match, Sharapova was out-hit and out-served by the German. Sharapova did not live up to her No.1 seed and ranking and needs to pick up her level as the hard court season approaches.
Yaroslava Shvedova's golden set
I have read articles on 2012 Wimbledon moments, and non of them have mentioned this. In a 3rd round match, wild card Yaroslava Shvedova faced off against top 10 ranked opponent Sara Errani. If you are unfarmilier with the term Golden set, heres an explaination. It's a set in which a player doesn't drop a single point, and thats what Shvedova did. She stormed through the first set without dropping a single point. It's an incredible feat against anyone, never mind against a top 10 opponent.
Murray reaches the final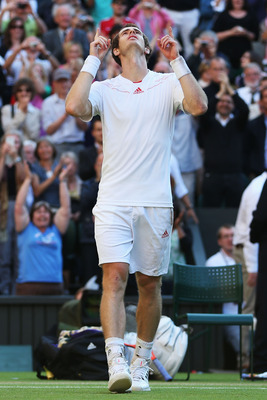 I'm not a Murray fan, but this was one of the biggest moments of Wimbeldon 2012. Murray ended a 74-year drought for Great Britain, as he reached the final of the championships. He beat David Ferrer, Jo Wilfred Tsonga amongst others along the way, but fell short to Roger Federer in the final. However, Murray reaching the final got everyone talking, and despite taking the first set against Federer, he lost the match in 4 sets. Still though, Andy Murray can hold his head up high, and if you like or don't, you got to admit he did well.
Federer wins 7th Wimbledon title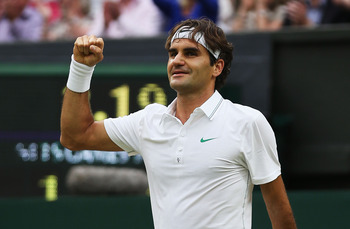 This year, Roger Federer matched Pete Sampras' record of 7 Wimbledon titles, and perhaps confirmed hmself as the greatest grass player of all time. Federer kicked off the tournament with a straight sets victory over Spaniard, Albert Ramos. He then defeated Fabio Fognini in the 2nd round, also in straight sets. Federer then had to fight from 2 sets down to beat Julien Benneteau in the 3rd round. Next was Xavier Malisse, who Federer beat in 4 sets. Feder then booked his semi final place with Novak Djokovic by beating Russian, Mikhail Youzhny in straight sets. Federer then went to beat world number 1 Novak Djokovic in 4 sets in the semi finals. The Suis then met Andy Murray in the final. Despite losing the first set, Roger battled back to win his 7th Wimbledon title in 4 sets. With this win, Federer is world number 1 again, and may have just confirmed himself as the Greatest of all time
So thats it. These are some of the best moments from Wimbledon 2012. Hopefully the US open is just as exciting