Katie Hargitt not only knows how to wheel a racecar, but she knows how to really get it done in the journalism world. Meet WTWO-NBC's fastest media personality and a fellow motorsports media colleague here on TPF!
Very seldom does a racer venture into the media industry in the production and reporter aspects, usually opting to be a color commentator when their helmet and firesuit is hung ultimately at their homes or offices. Most of these drivers work alongside the TV and radio productions for NASCAR and IndyCar races, providing a link between the actual experiences that the fans' heroes endure to an observational role from the booth or pits.
Rarely does one come across someone like Katie Hargitt, a USAC Ford Focus Midget and Kenyon racer who's since delved into the production side of NASCAR and IZOD IndyCar races in the past few years. Now working for WTWO, an NBC affiliate over in Terre Haute, IN, this Ball State graduate has utilized her skills in the racetrack and her media career as a hometown reporter who still has a passion and fire for racing. Having a unique perspective as an open wheel racer who's covered the action at the track as a runner for NASCAR on ESPN and with IndyCar's production, it's safe to say that nobody else knows exactly what the participants at the track endure better than Hargitt.
She understands just how precise and organized her works must be and like the racer she was born as prior to her full-time venture into journalism, she focuses on all details. Precise, creative, and also brilliant, this congenial and driven personality still yearns to be back at the track, be it working for a TV or radio partner or where she first started off - behind the wheel! Nevertheless, she has a mission to accomplish and that's to contribute news segments to Terre Haute and surrounding communities. As a voice of her location, it's much like being the voice of her team, having to relay information and feedback over to her crew during a race.
Graduating with a degree in Telecommunications and Journalism, it's always neat to meet a fellow colleague in this field whose visions, while with a different path and journey in mind, shares mutual philosophies and desires. There's a sense of gratitude and grace with the opportunities she's had in this sport and industry, but also a fire inside her that serves as her desire to grow and strengthen herself in the media. Make no mistake, as this young beautiful personality's journey has more experiences and moments to be realized.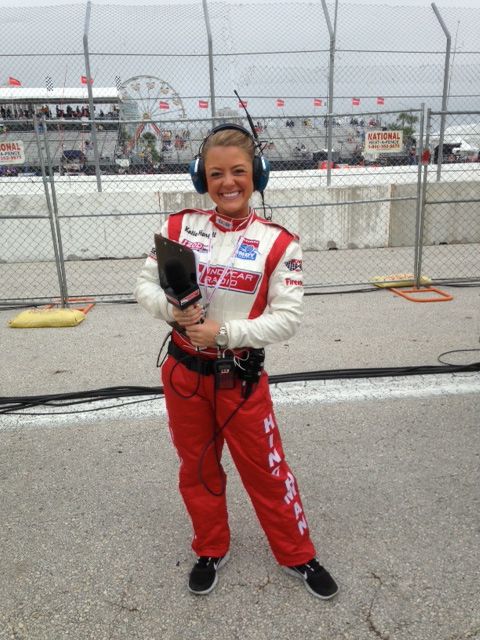 I caught up with Hargitt recently and discussed about her career in motorsports and the journalism industry. It's safe to say that I learned a lot about her and found that our struggles only have made us stronger and more determined individuals who'll one day find and realize our successful stories in time.
While I also enjoy interviewing anyone with a story to tell in racing, this one left me with a lot of hope, optimism, and a sense that the impossible is still attainable, no matter the challenges ahead. In a way, she's like our version of Sam Posey and Jack Arute, two venerable racing journalists whose ties with racing were as close as the margin of victory at Indy in 1992.
Are you ready to learn about the phenomenal Katie Hargitt? That's what I thought - well it's lights, camera, and action - let's go "Behind the Scenes with Katie Hargitt, Motorsports and News Journalist!"
Rob Tiongson : For the race fans across the country and with #TeamTPF who are learning about you, tell us a bit about yourself and your story in the racing world.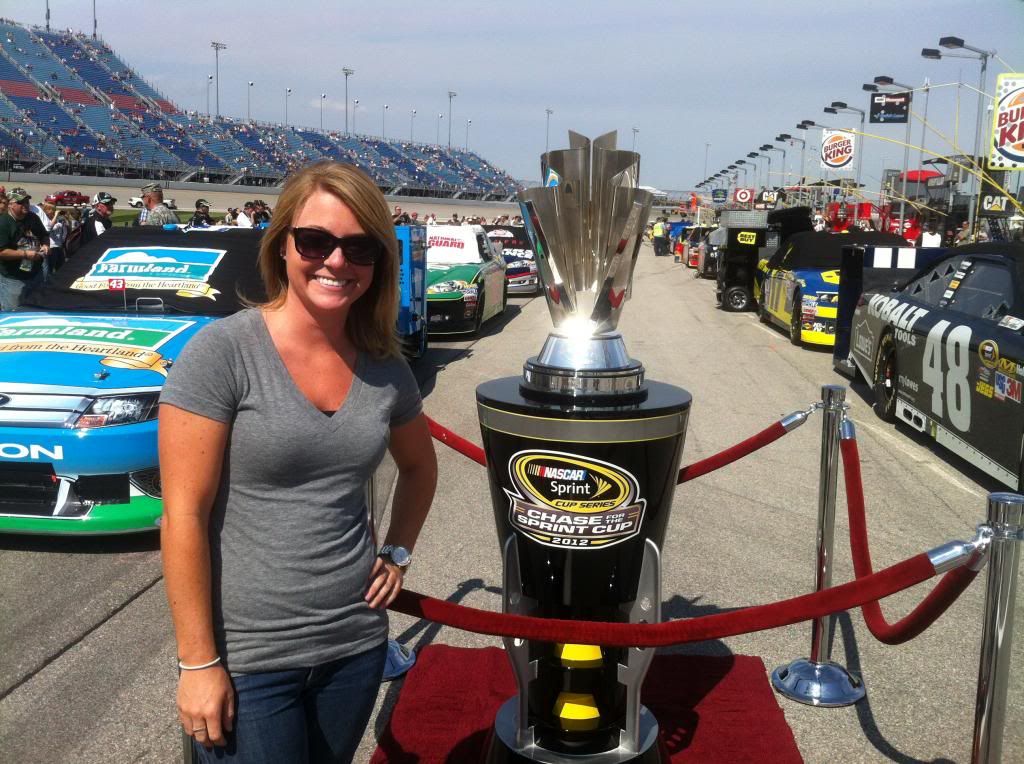 Katie Hargitt : I started racing quarter midgets at nine years old at Mini Indy in Indianapolis. I then moved into a Kenyon Midget and a Focus Midget. My last full season in racing was 2009. At that same time, I started college at Ball State and fell in love with broadcasting. I figured, "Hey, if I can't race for a living, I'm just going to talk about it." So, of course, I just went after every opportunity I could and went back to my roots in USAC and reported for them at the Wednesday night series at the Speedrome for a year and also hosted my own segment during the 2012 sprint week "Kickin' it with Katie." During the summer of 2012, I also started traveling as a runner with ESPN NASCAR. At the IndyCar Season opener in St. Pete of this year, I got the opportunity to pit report with IndyCar Radio. I also pit reported with them throughout the month of May at IMS.
RT : You've raced in the USAC Ford Focus Midgets and the Kenyon midgets in your racing career out in the Midwest. What was it like to race in those divisions and do you miss the competition?
KH : Of course I miss competing. I'll do (almost) anything for an adrenaline rush now. There's nothing that can compare to the feeling you get behind the wheel of a racecar, but the minute that red light comes on in front of a camera and you're live...that comes pretty close.
RT : Having graduated from Ball State University, known for its communications program and alumni, how's it been like to cover racing with the knowledge that you have with being behind the wheel?
KH : I'm definitely lucky to understand the sport from multiple aspects. My knowledge of the car, tracks and sport in general are an advantage when it comes to reporting.
RT : You've worked with ESPN's coverage of NASCAR and with the IZOD IndyCar Series within the past few years. Describe to us what it's like to work behind the scenes for both sports' media productions and the work flow for both series.
KH : The first time I walked into a production truck at ESPN, I was like a kid in a candy store. That is literally a traveling circus. Just to put it into perspective, a football game may have around 15 cameras, while a NASCAR race has upwards of 80 and a crew of hundreds. I learned so much more about the management side of things as a runner with ESPN. I now have a much greater appreciation for the little things that go on behind the scenes that make the on-screen product so much better. As far as IndyCar, that was a learning curve. I don't get star struck by people, because in my opinion they're just a person. But I got star struck by IMS and freaked out a little my first time on- air there. Luckily, everyone that works there helped me work through the kinks and by the end of the month I felt a lot more comfortable and confident in my skills.
RT : Currently you're working with WTWO, an NBC affiliate in Terre Haute, IN working for their newscast. How have you been able to apply your knowledge from the track and from Ball State that's helped with your work at the station?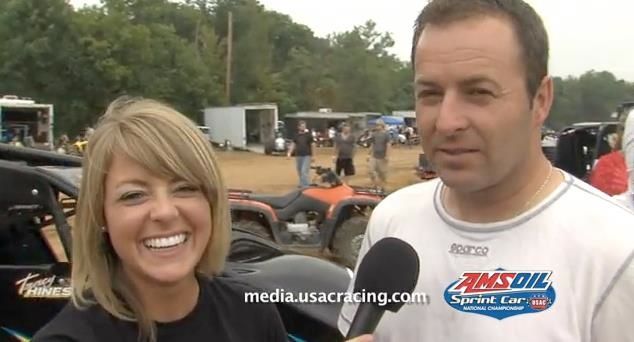 KH : My skills from live reporting have definitely come in handy. Also being able to do everything at a quick pace. Especially in breaking news, you have to get information out correctly and quickly. My racing experience having to tell a story during a pit stop or as a pass is being made has helped me with that.
RT : With racing, what's one thing about it, as a whole, that you feel needs to be changed in order for it to be better for anyone looking for a career in this industry?
KH : I wouldn't say that anything about the industry needs to be changed. I think it's important for someone pursuing a career in motorsports and especially broadcasting to be flexible and adaptable. Industry standards are constantly changing and without the ability to adapt you'll get eaten alive.
RT : Do you find that there are similarities with being involved in a media production for a newscast or even with a race telecast that's similar to how the life of being a racer?
KH : There are a lot of similarities to the life of a racer and media. You've got more eyes on you than the average person so it's definitely important to continuously set a good example. It's also so fast paced and constantly changing.
RT : Who are some of the people in the racing and media industry that you've looked up to for advice with your career?
KH : Lyn St. James was really the catalyst. I attended the first Women in the Winner's Circle Luncheon at 11 years old. Then, attended her driver development program twice. Because of her, I've had business cards and a website since the age of 11. Also, because of her, I have no problem walking up to anyone and introducing myself.
My dad loves to tell the story of the first year at WWC when I walked up to Bobby Rahal and asked if he wanted my autograph...looking back, that's actually pretty embarrassing!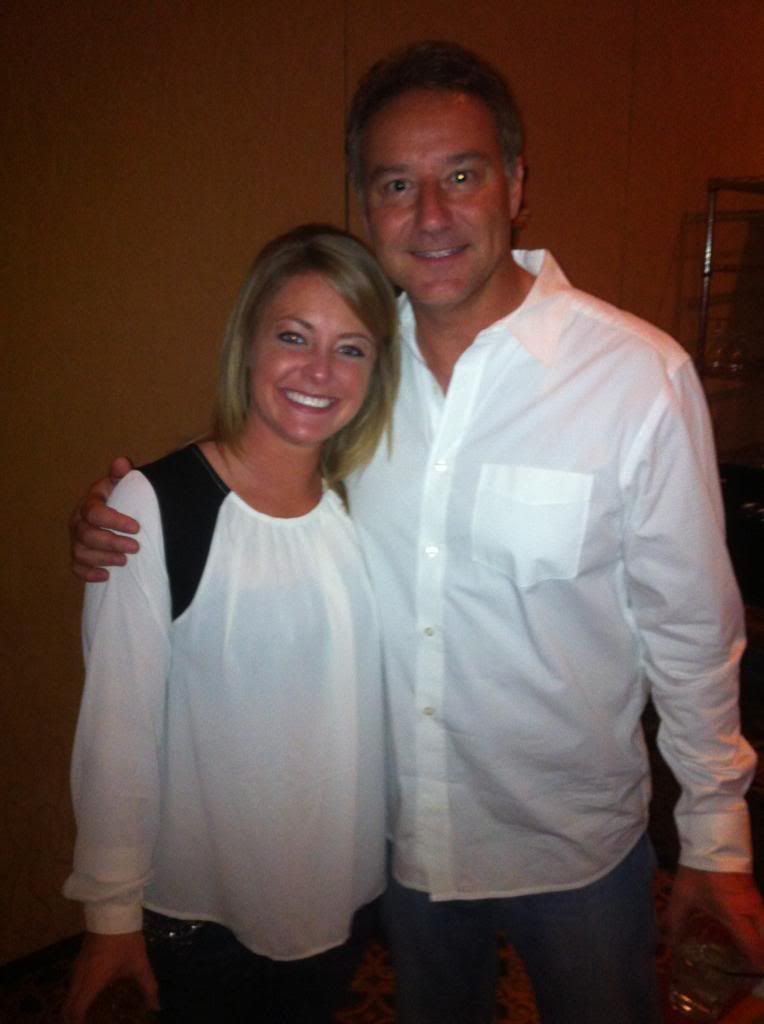 Vince Welch has also been extremely influential in my development as a broadcaster. Because of him, I ended up at Ball State and he helped me get in contact with all the right people there.
He is always there to listen and answer any questions. Without him, I'd probably be a frazzled mess.
RT : How important has it been for you to maintain a social media presence for you as a media personality who's worked in racing and now the news industry?
KH : Social media has been key in my career. I've been able to reach out to producers, directors, production companies and other broadcasters that I look up to thanks to social networking sites. It grows your network exponentially.
RT : What's been the greatest advice that anyone's given you that you've applied in your life with being in the media and racing worlds?
KH : Chris Taylor was one of my professors at Ball State. I say professor but he's more like a friend. He told us once, "Don't be upset with the results you didn't get with the work you didn't do." It's just a constant reminder to work hard. Work hard and be nice to people. You never know who someone knows or who you may meet later on down the road.
Author's Notes : Special thanks to Katie for allowing me to interview her for "The Podium Finish!" Also thanks to Katie for sharing the wonderful stories and pictures in this piece. It's a pleasure to meet someone like her in this field and we all wish her the best of luck at WTWO-NBC at Terre Haute, IN and we hope to see her back at the track soon! For more information on Katie, check out her official website, "Follow" her on Twitter, and "Like" her Facebook page!