The analysis, the humor, the...yes, yes there's pics too...
--Today we're going to try to keep this mercifully short as there's been a lot going on lately. First up apparently I'm a Roto Expert...I know, who knew? Our first article there is up @ http://rotoexperts.com/26010/is-christian-ponder-an-every-week-start-or-a-waiver-wire-wonder/ so if you can toss a functioning alcoholic a page view and maybe "Like" or comment so it appears to the editors like I have a semi-lucid following...I may have mentioned something to that effect along with my expertise in Risk Management so let's try to keep the charade going.
We also have another installment of Mr. Fantasy Loser available @ http://bowltilithurts.com/articles/mr-fantasy-loser-this-time-with-pics-week-5--2 and we are working to get that a spot on Bleacher Report beside the "Comely Co-eds of Conference USA" and other such indepth insights. Not to mention those worksheets my students are burdened down with while I search the Internet for Glamour Models to grace these pages aren't going to copy-and then subsequently shred-themselves so like the fat guy who discovers the Salad Bar has a Taco Station...I've got a lot on my plate.
MLB
--To me baseball is like C-cups and the NFL like the Internet...once I got the latter, quite frankly the former just bored me. This year's slate of walk-off wonders and wild finishes has been particularly entertaining, but there's plenty of places to get that story so I'll just make one quick comment...
This goes out to the future generations of announcers since like so many of the misunderstood no one is going to heed my prophetic words until I'm dead and my bloated liver is on display at the American Museum of Medicine next to a picture of me lying in an alley surrounded by beer cans like the victim of some drunken St. Valentine's Day Massacre as a means of proving it was a human organ.
That was a run-on sentence worthy of Jack Kerouac and James Joyce's love child, but in more Hemingway-esque terms let me state it simply...Fouling a ball straight back doesn't indicate the hitter "just missed it"! In actuality a flyball to the warning track is one the hitter "just missed"; a foul to the backstop is one he "just hit". I bring this up because Tiger "opener" (is that the opposite of closer?) Jose "Papa Not So Grande" Valverde almost pulled a Mark Wohlers 1996 when he rolled a half-assed slider up to Mark Teixeira in the 9th inning last night. In both cases, Jim Leyritz in '96 and Teixera last night, the hitter had fouled pitches straight back just prior leading to the inevitable "just missed it" call. Obviously thinking along the same lines the pitchers then followed with their feeble secondary offerings and got burned. Valverde's was less dramatic in that it came on a 2-2 count and was bounced in the dirt, but it left him with no margin for error which resulted in a walk and ultimately Raul Ibanez's game-tying HR.
So here's a tip if Joe Buck says it it's probably wrong...I mean when Your Name + is a douchebag get's 10 million hits on Google it's probably best not to heed that guy's advice.
--In one other baseball note Happy 62nd Birthday to ex-Red Sox reliever Dick Pole who may or may not have "crossed swords" with former Royal Pete LaCock during his 1970s playing days. Pole's not well remembered as his career ERA was over 5, but I did hear he was tough on this guy...
This is pretty much the intellectual level here...so you may wanna get out now...
CFB
--Imagination is a good thing. When chocolate-loving comedienne Lisa Lampanelli, of whom Nick Dipaolo once said she screwed so many black guys they solve 5 murders evertime she gets a Pap Smear, ran into trouble with the edible, as opposed to the carnal variety, of the dark and sweet she decided get serious about weight loss. But instead of trying the usual fad diets she got creative and took a picture of herself completely naked, put it in her purse and took it out when she got cravings to remind her of what she didn't want to be.
To date Lampanelli has lots over 75 pounds and kudos to her...as for the Stanford Cardinal, well, not so much.
I'm just gonna guess this ND co-ed doesn't have the slightest idea what a drink costs...
Last week we touted Stanford over Notre Dame who we predicted would be overrated coming off their crushing of Miami (FL). In the gambling sense we were correct as Stanford covered at +8, but it could've been so much more.
Stanford was led by their power RB Stepfan Taylor who made the most out of the little given by NDs tough front seven. Taylor went for 102 yards, but only on 3.6 YPC indicating how tough the going was vs. AA Manti Te'o and his teammates. Yet when Stanford had the ball inside the 15 late in the 4th quarter and again in OT they ran Taylor 8 consecutive times between the tackles and came up with a FG and a game-losing Stop On Downs.
One bootleg and the QB could've jogged to Chicago for one of those hot dogs with tomato on it which brings us to our point about imagination. Stanford was not favored, they did not dominate NDs Front 7 in size or physicality and the stats showed that while Taylor was churning up yards they were hard-earned and interspersed with plays of no gain or loss. In that situation you gotta Get Jiggy with it which is why I also carry around a picture of Lisa Lampanelli naked in my wallet...I should be back to my High School weight, and perhaps gay, in no time.
Lisa Lampanelli...getting jigg-ly with it...what you wanted her naked?
--Keep track of the propensity to overrate Notre Dame. The line in yesterday's game went from -7 which would have been a push to -9.5 in some places as the hype machine got rolling (thanks Lou Holtz) which was an easy Stanford cover.
Two teams that may fall into this same trap, but because of their low profile will take longer to get the publicity are Rutgers and Oregon State. The former is 6-0 and takes on Temple/Kent State/Army next so they should be 9-0 rolling into their final three games. As the other Big 6 conference teams beat each other up RU is on track to be a Top 10 team by default in November. Last time that happened was 2006 when they slid into Cincinnati and got crushed 30-11 as a small fave. Lo and behold game 10 this year is at Cinncy followed by at Pitt and home to #18 Louisville. Stay liquid for possible investment opportunities.
As for Oregon State I'm not sure what's going on, but like seeing a hot girl at, say, Walmart or the Dog Track I'm sure if you look closer there's gotta be something wrong. They've won 3 games by a TD or less and are creating turnovers at a Toni Fritsch-like pace (sorry, I don't have time to explain that one) and these are things that can't last forever. Their upcoming slate is much more formidable so go-against opportunities should abound. If not they'll get Oregon at Thankgiving where the bubble should definitely burst...
The Oregon State Cheer Sq--...What's that...these are Oregon Duck cheerleaders? Really...cause from where I'm sitting I'm seeing Beavers here...
NFL
How 'bout some quick hitters this week...
--First did anyone else who saw the Patriots new super-fast no-huddle offense get the feeling you were watching a chase scene from The Benny Hill Show. If I'd heard "Yakety Sax" playing in the background and Bill Belichick suddenly patted a short, elderly, bald man on the head I wouldn't have been the least surprised.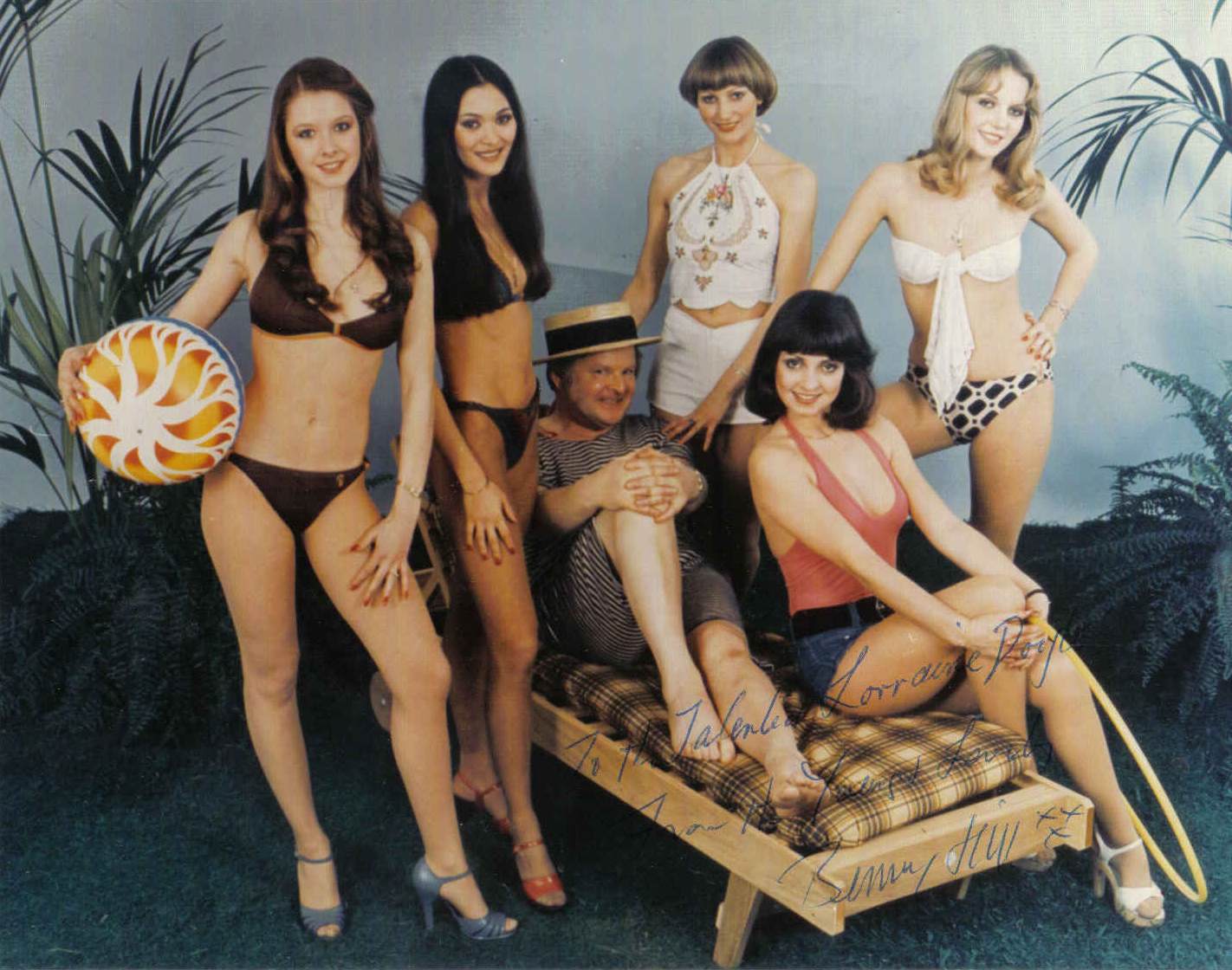 Ah Benny Hill giving hope to out-of-shape, drunken, bad pun-sters for years...I mean, not like I can think of anyone like that...
--Next can we end this whole idea of coaches turning into Otto Preminger from the old Batman TV series everytime someone lines up for a game-winning FG. Here's a rule idea no timeouts allowed in the last 5 seconds of the play clock when lined up in a traditional FG formation...or as John Holmes said on his deathbed...Freeze This!
Otto Preminger as Mr. Freeze...who I'm assuming had the smallest testicles ever...
--RIP to former Senator Larry Pressler better known as one of the few who didn't take the cash during the ABSCAM sting of the 70s. My favorite moment in this sordid affair was the videos of other congressman grabbing the bags of cash like the undercover FBI agents were Monty Hall and they'd just found a rubberband in their pocket on Let's Make A Deal. Kinda the same way people showed their Fantasy fondness for Ryan Tannehill after his 431 yd. performance in Week 4. RT came up with a mediocre 11 pt. Fake Football game last week and for the season has a 2-6 ratio so caution should prevail on his prospects, but more on him below...
You look shy, beautiful and just a bit vunerab...oh crap am I typing this out loud?
--Twenty-odd years ago my father would express how easy kids had it by launching into a spirited round of what my sister and I called "Name That Cheesy 80s Band" as in..."You kids today with yer Flocks of Seagulls and yer Spandau Ballets, listenin' to yer Walls of Voodoo and yer Bananaramas...and what the Hell is an REO Speedwagon...some kinda Hovercraft?"...So in this week's Haircut 100/Dexy's Midnight Runners You Had It Easy segment we'll point out that according to Pro Football Reference the most beneficial slates to date (outside of Pittsburgh who's already played and San Diego who we discussed last week) belong to Houston, Baltimore and the New York Giants. The Texans have not played a team with a winning record and have two close wins (decided by a TD or less) over the Jets and Broncos. They're -3.5 vs. GB on SNF and are without star LB Brian Cushing. The Ravens go -3 vs. Dallas in what sounds like an Under 44, but remember I start toasting those "friends" birthday announcements that FaceBook sends you as soon as I open my e-mail in the morning so don't go by me. And lastly the Giants are +6.5 at early SB favorite SF. NYGs wins this year are over the trio of TB/Car./Cle. so the overrated tag may be well deserved.
--For our official picks (2-1 combined) Fred is back to much/some rejoicing and he's on Atlanta -9 over the Raiders and I'll go Miami -3 (buy the hook if you have to) and the afore-bashed Ryan Tannehill over St. Louis whose biggest offense weapon is big-legged kicker Greg Zuerlein who I don't know much about other than he probably sat last seat last row in every class in grade school.
I officially hate almost everything...so in a way it's actually gotten better. And now for my favorite part where I troll Google Images for the closing pic...
That should do...