Between an early end to a promising World Cup run and severe sanctions dealt to the USC football team for violations commited when most of the players were 13-years-old, maybe NBA basketball is the only thing Los Angeles sports fans have to smile about this summer. Here, in honor of the 2010 world champion Los Angeles Lakers, is USC and the Pac-9's "2010 NBA All-Ugly Team."
Point Guard: #13, Steve "The Crypt Keeper" Nash:
Steve Nash (Born 1974, Died 1995) climbed out of the coffin and onto the professional basketball scene in 1996 with the Phoenix Suns. The '04-'05 & '05-'06 NBA's Most Valuable Player is best known for his creative passing game and for his seven year stint as the host of HBO's Tales from the Crypt.
Center: #13, Noah "Juwanna Mann" Joakim
A basketball star is booted out of Florida when his on-court antics go too far, so he poses as a woman and joins the Chicago Bulls.
Center: #16, Pau "The Llama" Gasol
Basketball -- so easy, a caveman can do it.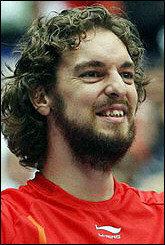 Shooting Guard (had to get this guy on the floor): #28, Sam "ET" Cassell
A mining ship, investigating a suspected SOS, lands on a distant planet. The crew discovers some strange creatures and investigates. Sam Cassell hatches from the chest of Sigourney Weaver and puts up 40 on the Knicks.
Small Forward: #6, Adam "Ugly off the Bench" Morrison
Celebrating the first time Morrison has been in a starting lineup since '06. I mean...look at him.
Coach: Stan "Ron Jeremy" Van Gundy
Ever seen them in the same place at the same time?
Assistant Coach: Popeye "What If Reggie Miller Melted" Jones
Popeye Jones once flapped his ears, went up for a dunk, caught a glance of himself in the glass, and began to melt. Reggie Miller's aborted twin is now an assistant coach for the New Jersey Nets, but will always be one of the ugliest looking things to step onto the hardwood.